Find out what we can do for your business. Call us at (800) 305-6995,
or fill out the form and we'll call you.

PCI Compliant

1155 South 800 East, Orem, UT
800.305.6995, 801.223.9939
Risk-Free Data Center
It is common knowledge that information is important but we understand how much your information means to you. That is why we have taken every precaution necessary to keep your precious and fragile data secure and protected from all hazards both cyber and physical.
Fibernet's location is ideal for a Utah based colocation center. Flooding will have little to no impact on our facilities, earthquake damage will be minimal, and multiple police and and fire stations are within two miles of Fibernet. On top of our premium grade cyber security, you can rest assured your information will be preserved in case of almost any disaster.
Liquefaction Rating (Very Low)
Liquefaction occurs when soil that is saturated with water or air experiences a high amount of stress, typically an earthquake, and behaves like a liquid. The Christ Church earthquake of 2010 in New Zealand gives us some of the most chilling examples of the damages caused by this phenomenon. Sadly, Utah Valley is also susceptible to this potential disaster. Luckily, Fibernet is located in a very low liquefaction danger zone, safe from the hazards usually caused by earthquakes.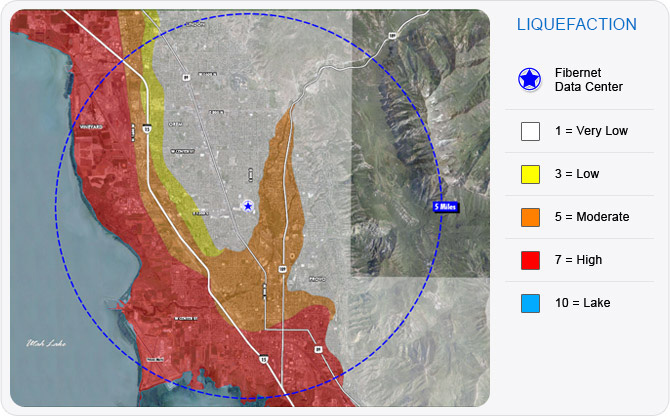 Flood Rating (Very Low)
One only has to look at Thailand for an example of what kind of havoc floods can wreak on the technology industry. Fibernet is literally placed high above the dangers of flooding on a hill far away from any water sources. With little to no risk of a flood disrupting operations and ruining our data storage facilities, your information is safe under these disastrous circumstances.
Emergency Services
Fibernet is strategically placed within reach of multiple local fire and police dispatches. Should fire or trespassers threaten our facilities and your information, multiple fire or police departments will be notified and can quickly respond to the alarm, protecting precious assets.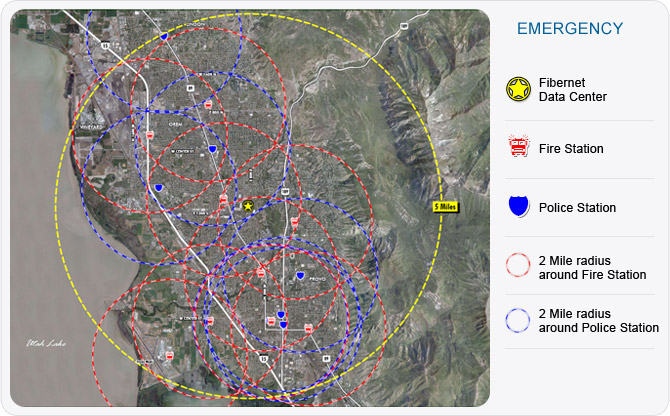 Fibernet has the optimal location for a Utah colocation center. Of all the natural hazards which loom over Utah, you can enjoy the protection Fibernet's location gives to your information. Should the worst case scenario occur, data loss will be one less thing you will have to worry about.
By choosing Fibernet, you are not only guaranteed top-of-the line service and high grade cyber security, you are also guaranteed your valuable data is safeguarded from every potential disaster that could occur in this region. You will have confidence that your assets are well insured and are in the safest condition.