Forbes Magazine recently highlighted Utah as "The New Capital of Cloud Computing", and detailed some of the reasons why it's a great place for a cyber security startup or any tech company. Is Utah the right fit for your company?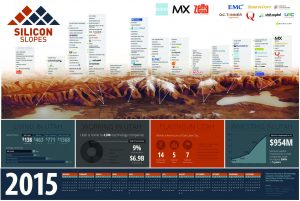 The Silicon Slopes. Home of 6 companies on the Forbes Cloud 100, and hundreds on the Inc 5000, the Wasatch Front of Central Utah is the hottest place for new tech companies. Forbes even called it "The New Capital of Cloud Computing" and wrote an article about it in their latest issue.
What is the Silicon Slopes? It's the 60-mile stretch between Farmington (where Pluralsight is located) and Provo (location of Qualtrics), where more than a hundred tech companies have grown to fruition. The companies vary in products and services, ranging from infrastructure to business software to cyber security.
So why Utah? What makes this region so perfect for a tech region? It's far from being the Bay Area, home of the famed Silicon Valley, the original tech business stomping ground. It's nothing like the urban atmosphere of New York, whose Flatiron district has been dubbed "Silicon Alley", and boasts the most internet connectivity in the country.
Utah has a few unique features that allow it to be a tech powerhouse, spewing out startups and success. The following 3 reasons are taken from Forbes, in the article mentioned above.
Cost of Living
Utah is home to low tax rates, a cheap housing market, and a low cost of living. In fact, it's 30% less than Seattle, 41% less than Boston, and almost 50% less than the Bay Area. Salaries, on the other hand, are only 27% smaller, meaning you make more and keep more. You might say, "well, it's cheap to live in Wyoming too, but there's nothing there." Well, you would be wrong, Wyoming has some great places, and so does Utah. You don't need to give up having other tech business around you, or good eats, or recreation. Utah has an NBA team with a diehard fan base (RIP Gordon Hayward), 14 ski resorts including Park City, the largest ski resort in America, a renowned music scene, and much more.
Workforce
Tech companies like a certain type of employee: young, driven, loyal. Utah is the place to get them. Since the majority of Utah residents are Mormon (The LDS Church, headquartered in Utah), that culture has been a catalyst for growth. Missions for their church, where young adults spend service time abroad, becoming driven salespeople along the way. BYU, one of the number one business schools in the nation, sits in the heart of Provo. UVU in nearby Orem is another large university, as well as the University of Utah, well known for its Engineering and Nursing programs. More than 100,000 students live in the area, so recruiting today's brightest doesn't mean you have to look very far.
Connectivity
It might not be New York, but it's a lot closer than you think. All major fiber lines connecting the East and West run through Utah, and carriers like Level3, Cogent, Integra, and others have created an amazing infrastructure. Utah has 2 of 10 Google Fiber cities in America, which are Provo and Salt Lake. It has 23 private data centers and is home to the NSA's massive Data Center.
For a cyber security startup looking to save on office space without having to sacrifice the environment, this is the place (Utah pun, comment if you get it). You have the opportunity to find great employees in a great environment. It's teeming with resources and wants you to start your career or company here.