Does the thought of buying college textbooks make you cringe? Well, don't look for the easy way out. Textbook scams are out there and more common than ever. Read more to find out about the safer way to get a deal online.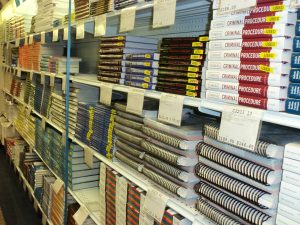 College textbooks are easily the most expensive books you will never read. How many of us have an old physics textbook on the shelf that we just can't part with because it cost us $350? Even if you only open them twice, textbooks are often required by college professors.
I took a class in college where I had to turn in the receipt of my textbook purchase, for credit. I promptly resold the book and bought a used copy, but that's not the point. The point is that starving students aren't always keen on spending hundreds of dollars on textbooks. Student loans currently total more than $1 trillion. If they can find a better deal online, they will jump at the chance to save a few bucks. Heaven knows they need it.
"I spent I think up to 500 bucks"
– Alex Hanebray, University of Utah Student
It appears that cyber criminals know this too. Websites pop up during the end of summer vacation, advertising that political inquiry textbook you thought was $290 for just $29 new. I'll admit, even I might not think twice about that deal. The books are ordered with a credit card, but they never come. You're left without textbooks and without your credit card information because besides the $29 stolen, your information is potentially at risk as well.
Caroline Townsend, a student at the University of Utah, interviewed with KSL on the subject. "You have to be very careful these days," she said. "Because scams are very real and they're all over the place."
Townsend talked about a tuition scam she recently was almost a victim of, where she received a call from criminals posing as the university's registrar office. She also talked about a friend's involvement as a victim of a fraudulent textbook website. She was almost tempted, saying that the steep price of textbooks draws in many students.
Scared of buying fake or non-existent textbooks? Here are a few reputable sites you can trust to provide new and used textbooks at a price that's better than the publishers retail. Check them out:
Amazon.com
Condition: New, Used, Rental
Bonus: Amazon Prime Student
Believe it or not, the queen of the internet has its foot in the door of another niche market. Textbooks can be found, used or new, from multiple sellers. Amazon Prime Student is a deep discount on the free shipping offer, and it still includes Prime Video.
Chegg.com
Condition: New, Used, Rental
Bonus: Study Help and Tutors
Chegg is a Silicon Valley solution to the expensive textbook problem. You can rent books, or buy used or new. They offer a 21-day, No Questions Asked, return policy. They also have a tutoring and study-help service, which offers "Step-by-step solutions (Odd & Even) for over 22,000 ISBNs", live online tutoring, and access to a forum.
Textbooks.com
Condition: New, Used
Bonus: Easy Sellback
Textbooks.com says "We wrote the book on textbook buyback" and though I can't verify, it does sell discounted new and used textbooks, and has a simple buyback or selling process. You can sell any textbook to them, all you need to do is fill out a quote, they make you an offer, you print the shipping label, you collect using PayPal or a check. Simple, secure, easy.
There are other reputable websites, but you should check with the university before searching them all. Beware of fake sellers on Ebay, no one wants to dispute a purchase while trying to study for their midterms. Above all, stay safe, and don't get sucked into scams that offer huge discounts that seem too good to be true. Falling for that is just a textbook example of what not to do. Pun intended.