JumpCloud is the newest service offered by Fibernet, and it's the best tool for directory and user management ever. Learn more, then get a free quote today!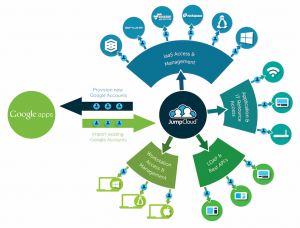 The worst part of managing user access on a network? Ease of use. You hire someone, and you have to add a new user, with specific access privileges, on each server. You promote someone, the same thing occurs. Someone is fired, you need to go remove their credentials from everywhere. It's a slow and painful process. The solution so far has been to create a single user for the group, with a username something like "admin" and a password something like "password123".
More than a few problems exist, namely the very lame password, and the fact that anyone who ever was on your team now has access to your network. I didn't even mention malicious intent. Guess it isn't a great solution.
Fortunately, Fibernet now offers the perfect solution: JumpCloud. JumpCloud is your Directory-as-a-Service in the cloud. It allows you to control users and access privileges from a single point, for all your infrastructure. You can easily add new, remove old, change and edit privileges. You can integrate many other products and services into your infrastructure. JumpCloud offers 7 key features that will increase efficiency boost performance. Check them out:
Directory-as-a-Service
The core of JumpCloud is directory management, meaning a database that maps users to all parts of the infrastructure and areas of the network. It's secure and easily integrates with your infrastructure.
User Management
You can finally get rid of the admin account — users can now easily have their own login credentials for every part of your system. Users can be imported from anywhere, and easily maintained all in one place.
Device Management
Different systems can hurt the efficiency of any company, and lessen the control allowed to administrators. Now, it doesn't matter if you use Windows, Mac, or Linux, all access can be centrally controlled and maintained through JumpCloud.
Group Management
JumpCloud offers an easy-to-use interface that allows admins to create and edit user access. Each user can now have their own individual credentials, while still maintaining the ease of grouping control of resources.
Application Single Sign-On
Now you can offer a single sign-on service for your users, by using simply one centralized identity. All internal applications can be accessed with a single authentication point. It's secure, yet so much easier than continuously logging in to every application necessary.
Multi-Factor Authentication
To increase the security, and ensure user login information isn't abused, multi-factor authentication is available and customizable. Whether you use a token that generates a random number sequence, or a passcode sent to a user's phone, you can ensure the security of each user's login.
Third-Party Integration
More and more, businesses are using cloud-based apps for content management, email. And so much more. JumpCloud offers integration to Microsoft Office 365, Google G Suite, LDAP, and many others.
If you're not convinced by now that you need JumpCloud to manage your infrastructure, then maybe this will. It's $10 a month. The average American spends more than that just on coffee every week! How much will your lunch cost today? I'm sure it's worth less than the security of your company. Get JumpCloud today!