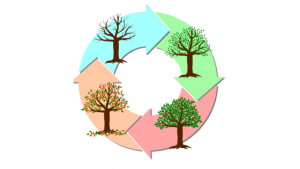 Kids are back to school, and we're starting to sense it's time to put away the beach towels and pull out the wool blankets. Here in Utah Valley, the Wasatch mountains already show sprinkles of red and orange among the green, and the warm summer mornings are full of cool fall breezes and scents of a dying summer. Change is in the air.
Along with the change of the season comes another change. And unlike the seasonal changes, we have some control over the changes that pop up every year around this time: political changes. It's election season.
Ever since the 2016 elections, there is a major word player that keeps popping up. This word isn't just popping up around election talk, but throughout a wide range of areas; technology, politics, and user information sharing. SECURITY.
How secure are the elections? And in another vein, how secure do we feel they are? According to polls, a majority of voters believe that the nation is not prepared to deal with the current cyber threats.
Department of Homeland Security Secretary Kirstjen Nielsen said that initially the DHS did not foresee themselves being involved in election security, but that now it is "one of my highest priorities." Due to the stumbling and bumbling of government agencies after the Russian involvement in the 2016 election, steps forward have been taken. Indeed, threats continue to rise, and there is nothing else to be done but go forward.
Some of the many measures that have taken place to help combat security threats include:
-updating policies
-enacting security measures at a rapid pace
-improved relationships between state and government officials
-strengthening of cybersecurity infrastructure
-$388 million distributed between the states to go towards securing elections
-In 2017 the Government Coordinating Council for Election Infrastructure was created. This council "helped frame communications between the federal and state and local counterparts, as well as discuss needs and availability of resources."
-There are also 150 cybersecurity advisors that are on call to provide cyber security advisement to state and local governments.
-Utah has mandated that "all individuals with access to voter registration database…complete cybersecurity training courses."
DPH is also aware of the impact of "manipulation of voter perceptions" that happens with social media and other avenues of information to the public. They are "trying to direct members…to be 'honest brokers of information in the election infrastructure space.'"
The Department of Homeland Security feels that they are miles away from where they were in 2016, but only time can tell how far we have come, and much further we have to walk before we have a secure system in place.
It's a hard rain's a-gonna fall first.