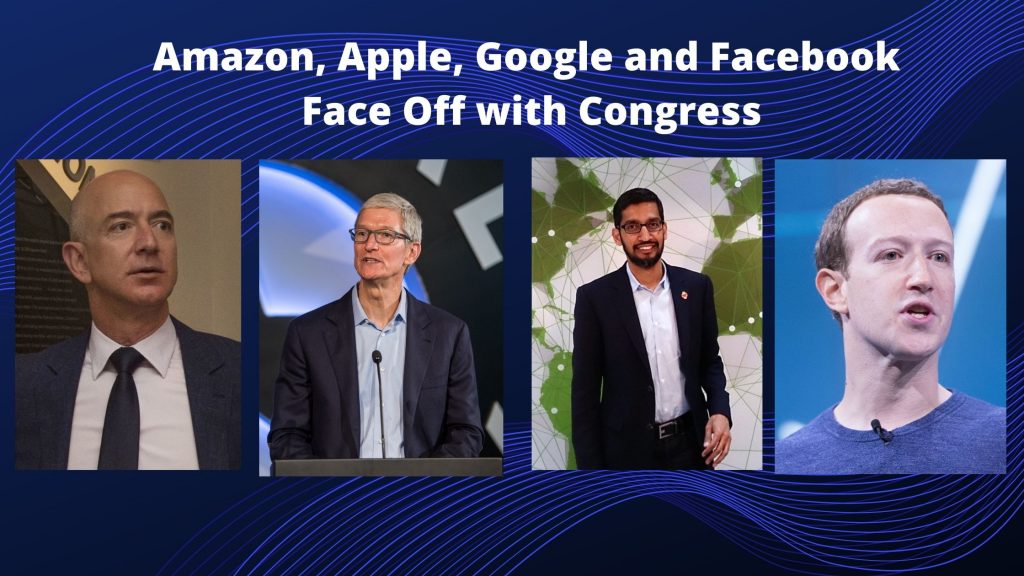 The CEOs of the 4 largest tech companies in America, Amazon, Apple, Google, and Facebook, met with lawmakers last week to discuss the practices that helped them grow into the powerful and profitable companies they are today. It was a rare opportunity to have all 4 CEOs teleconferencing into the hearing as usually the companies send their lead counsel – not their CEOs. The CEO's felt this meeting was so important that they thought it necessary to attend instead of their lead counsel, who would normally represent their companies' in these situations. 
The title of the hearing was "Online Platforms and Market Power, Part 6: Examining the Dominance of Amazon, Apple, Facebook and Google." This was part of a year-long antitrust investigation with five previous hearings focusing on issues like data privacy, innovation, the free press, and competition.
Democrat and Republican antitrust panelists grilled the CEOs, both for apparently different reasons. Democrat lawmakers questioned them for buying startups and using their data banks to eliminate competition. Republicans questioned them for censoring conservative content and being unpatriotic.  
Meanwhile, President Trump tweeted from the sidelines that either congress needed to do something about Big Tech or he was going to take action with Executive orders. The President has accused the tech companies of being biased against him and other conservatives.  
If Congress doesn't bring fairness to Big Tech, which they should have done years ago, I will do it myself with Executive Orders. In Washington, it has been ALL TALK and NO ACTION for years, and the people of our Country are sick and tired of it!

— Donald J. Trump (@realDonaldTrump) July 29, 2020
Prior to the proceedings each of the CEOs published statements. Mark Zuckerberg of Facebook defended his companies purchases of WhatsApp and Instagram stating they wouldn't have survived had Facebook not acquired them. Zuckerberg also stated that Facebook's success was key to keeping the US competitive with China. 
Both Sundar Pichai of Google and Tim Cook of Apple argued that they had faced competitors in every sector and that their platforms helped small startups market to wider audiences. Jeff Bezos of Amazon referred to Amazon as a small company when compared to competitors like Walmart. Then Bezo turned the argument around and said that Amazon's size was needed; "just like the world needs small companies, it also needs large ones."  
During the hearing Apple's treatment of their rival companies was addressed. For instance, Apple removed apps that competed with their Apple Screen Time app.  According to CEO Tim Cook the rival apps were removed because they were vulnerable to third-party takeovers and they were concerned for the children's safety. Google's Sundar Pichai faced questioning on their policy to conduct fair searches during the election. Amazon's Jeff Bezos was questioned for his company's policy to use data collected from other sellers for their benefit. Facebook's Mark Zuckerberg was examined for acquiring Instagram to neutralize competition.  
The general consensus is that these tech companies' power needs to be reigned in; "As gatekeepers to the digital economy, these platforms enjoy the power to pick winners and losers, shake down small businesses and enrich themselves while choking off competitors," said Representative David Cicilline, Democrat of Rhode Island and chairman of the House Judiciary Committee's antitrust subcommittee. "Our founders would not bow before a king. Nor should we bow before the emperors of the online economy."