Note: Fibernet takes the importance of your data very seriously, not just physically but digitally as well. Read more about Fibernet security and what we do to ensure you have the safest Internet connection to your servers.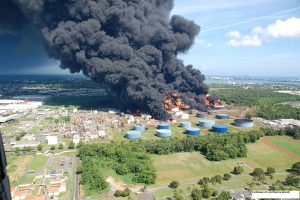 Many companies have emergency preparedness in mind constantly, but some data centers don't take the unexpected into account when building facilities.
Emergency preparedness plans can be found in just about every home, school, and place of business around the world. But what about preparedness plans for data centers and IT companies? Procedures to withstand a natural disaster and keep technologies running for those who might depend on them, particularly during an emergency, are highly important. And yet, not all tech companies have implemented a data disaster preparedness plan. Network World and SolarWinds (an IT management software maker) put out a survey to technology industry professionals and found that twenty-five percent of those who responded said they don't have a disaster recovery and response plan. Only fifty-seven percent of those respondents said they would create one within the next twelve months.
In total, 230 IT professionals took the survey. Twenty-seven percent said at some point in their careers, they had been prevented from going to their offices because of a natural disaster. Thirty-four percent of that group said they had missed a week or more of work because of the disaster. One person who responded to the survey said, "During a severe storm an electrical surge caused our UPS to shut down, taking down our whole data center. After this we added a whole building surge suppression system."
Another horror story came from another respondent who recalled that a backhoe cut through the phone and fiber lines in his place of business. The company moved its servers and workforce into an employee's home. This participant said, "We are a software developer, [so we] were able to bring up our website at an employee's house within half a day. Clients didn't know we had a problem."
Note: Make sure that you always have an Internet connection to your business so your clients never even know you missed a beat. Sign up for Fibernet's business Internet today for a reliable service at an affordable price.
If you are not working in an IT centric company, but are an IT professional, it can be difficult to impress on the management how important having an emergency preparedness plan really is to a business. Only thirty-one percent said that disaster preparedness and response is a top or high priority. Twenty-nine percent said it's a medium priority, but the largest set of respondents, forty percent, said that preparedness is a low priority, or that management is unconcerned entirely. Of course, once the first disaster strikes, it might change their minds.
One of the barriers that management might see to starting an IT disaster preparedness plan would the continual maintenance and updates that would have to go into keeping a disaster plan relevant and effective. Forty-four percent of the Network World respondents said they update their preparedness plans once a year, and fifteen percent said they update their plans every two years. An example of stellar emergency preparedness came from one survey responder who said, "All foundation applications are housed off-site with campus network presence. Tapes are sent off daily for other systems and can be recovered within 12 to 18 hours. We test this twice a year." Other preparedness technologies and plans that can contribute to a company's success during an emergency include: VPNs, offsite backups, offsite storage, remote access, and company-supported mobile devices.
Fibernet itself has many measures in place to be sure that hosting customers' data is safe during any emergencies. First and foremost, the Fibernet data center was built in a location specifically chosen for how safe it was from natural disasters. It has the lowest risk of liquefaction possible. Along the same line, the data center also has the lowest risk of flood possible. Finally, the Fibernet data center is strategically located so it is within two miles of a police station and multiple fire stations, for a quick response time for any emergencies on site.
With all of that, plus multiple diesel generators and a state-of-the-art UPS for our entire facility, regular manufacturer maintenance and regular testing by our very own support staff, there isn't a safer data center to be in throughout all of Utah.  Take a virtual tour of the Fibernet data center right now to see what else we have in place to keep data secure and safe from any disaster, natural or otherwise. Learn more about the specs of the data center here.