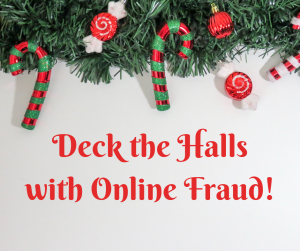 The Holidays are in full swing. There is no escaping it. You can run and you can hide, but you cannot unplug the internet anymore than you can clear the roads of snow or traffic.
The Holidays are a festive time of year for many, but for business owners it can be the most stressful, albeit financially gainful, time of year. You worry about having enough inventory, having shifts covered, getting back to customers in a timely fashion. And, to add to the headache, you've found yourself smack dab in the time of year where the most fraud occurs.
Here are some startling facts regarding fraud:
-Online fraud attempts increased 31% last year
-Thanksgiving Day, Christmas Eve, and December 21st are the days with the highest fraud attempts. December 21st is the cut off for most companies for express shipments
The percentage of fraud attempts goes up every year. Last year 1 out of every 85 transactions was fraudulent. In 2016, 1 out of every 97 was fraud, and in 2015, 1 out of every 109 transactions was fraudulent.
As you go about your holiday business, be aware of the following 10 indicators of online fraud:
Average fraud purchase is just over $250

Often marked as Gifts when checking out

Christmas Eve tends to be the date with the most fraudulent purchases

Rush orders

Several orders placed with the same card or account number but with separate shipping addresses

The IP address is from a high risk country such as Russia, Malaysia, or Ghana) or customer is using a cloaked IP address

Non-pronounceable names, like: Ghdddkynnm

Orders shipping to the same address but different cards used

Replacing an order when a large order doesn't go through and trying for a smaller amount

Typos and using all caps on order information  
Being aware is the first step! Stay safe out there, and happy holidays!