The FBI (and everyone else) wants you to be a part of their cyber security team. October is National Cyber Security Awareness month, so be aware of all the opportunities that are available to you. Stay safe online, and get a sweet job!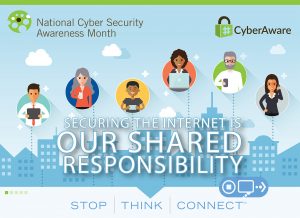 Well, the government is officially hiring. Straight from the source, the FBI is recruiting for cyber security-savvy individuals, and willing to pay for them too. "As the cyber threat continues to grow, the FBI is similarly ramping up its efforts to recruit cyber experts to work as special agents, intelligence analysts, computer scientists, and more." That's from FBI.gov! Why does the FBI want cyber ninjas roaming around the Hoover Building? Maybe if they rename it to the Hoover Dojo more will come?
The reason is the same reason that cyber security is one of the highest paying jobs in the private sector, and why it's in such high demand. It's because cyber crime costs the world trillions of dollars. Trillions, like the national debt. That's a lot of money. And to save us from losing more and more, we need to protect ourselves more and more. Enter cyber security ninjas. (I'm telling you, this term is gonna catch on one day. You heard it here first.)
The FBI has a lot to say on the subject. Especially since it's National Cyber Security Awareness Month, recruiting efforts are increasing. Actually, the FBI wrote an article for the general public (and potential recruits) about this month, and how they can "protect themselves in an interconnected world". They give 3 basic tips to being safe:
STOP

THINK

CONNECT
Seems pretty straightforward, right? That's because it is. The first step to being safe online is being smart. Don't just click on whatever you want! That is really what they are trying to say. Sometimes we all forget that we don't actually have a long-lost relative who is a prince of India and is going to send us $100,000. Before you do something, stop and think about it first. Is it worth it? By the way, Connect doesn't mean stop, think, then connect anyways. It means connecting the dots.
Here is what the FBI wants you to know. "Cyber risks can seem overwhelming in today's hyper-connected world, but there are steps you can take to protect yourself and reduce your risk," said Assistant Director Scott Smith of the FBI's Cyber Division. "The FBI and our partners are working hard to stop these threats at the source, but everyone has to play a role. Use common sense; for example, don't click on a link from an unsolicited e-mail, and remember that if an online deal seems too good to be true, it probably is. And overall, remain vigilant to keep yourself and your family safe in the online world, just as you do in the physical world."
Stay safe! That's all they want. And if you think you're pretty good at being safe, and could maybe even make others safe, check them out! Uncle Sam is always hiring when it comes to cyber security. Actually, everyone is. They'll even give you free school to get more training.
If you are considering a new career, this is DEFINITELY the route to go. I mean, who doesn't want $80,000 a year? That bumps you from driving that old Hyundai to making the CEO do a double take as you pull up in a roaring Corvette. Or maybe you really are a cyber ninja, so you prefer a quieter Tesla or BMW i8. Either way, October is Cyber Security Awareness Month. Be aware. Get the salary you really want today!