Phishing costs $500 million a year in America alone. Protect yourself with the first cyber security product specific to phishing protection, Area1, available now from Fibernet. Check it out!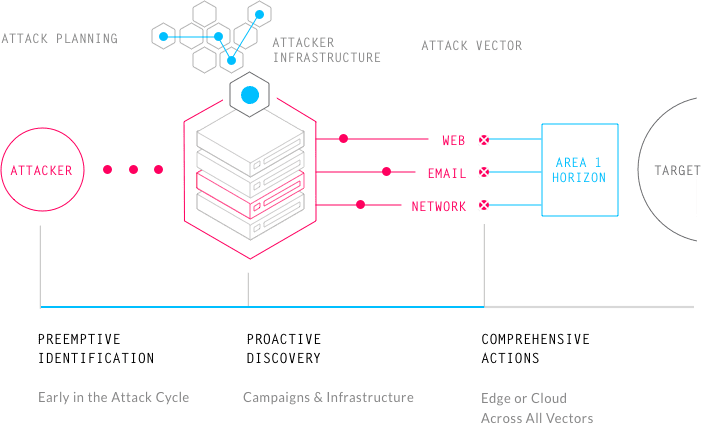 Phishing is one of the most common types of cyber security attacks. In fact. More than 1 billion phishing attempts are made every day. How many of those reach your inbox every day? Probably 1 or 2. Have you ever been a victim? Has your company? If you answered yes, then you probably know how even a simple email can cause hundreds, thousands, or even millions of dollars of loss. In fact, Forbes report that phishing in America costs businesses $500 million a year.
What are the solutions? You can train your employees to be on the lookout for them, but everyone falls for it sometimes. You can turn up your mail filter really high, but that probably takes away potential business, and if you're constantly searching for customer's emails in spam, it defeats the purpose. The real solution is Area1 phishing security from Fibernet.
Area1 is a cloud-based service that preemptively stops phishing attacks. "With globally distributed sensors, massive scale web-crawling, and comprehensive pre-attack analytics, Area 1 Horizon identifies phishing campaigns, attacker infrastructure, and attack delivery mechanisms during the earliest stages of a phishing attack cycle."
The best part about Area1 phishing protection is that it is the only cyber security product available that is dedicated and specific to protecting against phishing attacks. Area1 works on all traffic vectors, email, web, and network.
Area1 works by searching out phishing attacks targeting your company "in the wild", long before they reach you. Through proprietary methods, it discovers and stops emails from reaching the end users. It protects against all types of attacks, from whaling to ransomware emails.
What Is Phishing?
Phishing is a cyber attack that targets individuals and businesses by pretending to be something or someone legitimate and lures personal or sensitive information from victims. Here are 5 common features of phishing emails from Phishing.com:
Too Good To Be True –

Lucrative offers and eye-catching or attention-grabbing statements are designed to attract people's attention immediately.

Sense of Urgency –

A favorite tactic amongst cybercriminals is to ask you to act fast because the super deals are only for a limited time.

Hyperlinks –

A link may not be all it appears to be. Hovering over a link shows you the actual URL where you will be directed upon clicking on it.

Attachments –

If you see an attachment in an email you weren't expecting or that doesn't make sense, don't open it!

Unusual Sender –

When it looks like it's from someone you don't know or someone you do know.
With a customer, a phishing simulation was conducted. The customer wanted to understand the extent of its exposure to phishing attacks. Area 1 Security performed a phishing simulation at the company, targeting approximately 106 employees in all functions, including executives. In total, 76% of the targeted employees were successfully phished, clicking potentially dangerous links 117 times.
Area1 prevents these emails and breaches, taking action against phishing attacks that target you and your business. Not everyone needs a simulation to know that phishing can affect them and their business. Get the security that protects you from the number one cyber security threat to businesses today.