Ransomware is everywhere, but NoMoreRansom.org isn't letting it wear them down. After a successful year of fighting malware with decryption, this security conglomerate celebrates it's first anniversary.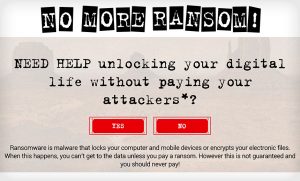 #DontPay sounds like a Twitter boycott on taxes, or maybe a trending topic about not paying for UTA Trax Fares. In fact, it's part of a campaign against ransomware. It's a collaboration between McAfee Security, EC3, Dutch Police, Kaspersky Lab, AWS and Barracuda, all of whom are big players in the cyber security industry. Other companies and governments have joined the fight as well
There is a second hashtag that is also the title of the campaign. #NoMoreRansom is all about decryption of ransomware, rather than taking the loss and paying the actual ransom for the files. In the aftermath of WannaCry and Petya, which cost companies like FedEx and Maersk hundreds of millions of dollars, more individuals and businesses are looking for the best ways to protect themselves from future threats.
If the victims of ransomware attacks had the options of decryption of files instead of having to lose their data, or pay the ransom, perhaps the cost of ransomware in 2017 alone wouldn't be the astounding $4 billion that it is. So what are McAfee and Kapersky doing to stop our computers from getting hacked and encrypted?
NoMoreRansom.org turned 1 year old on Tuesday, and it seems like they have a lot to celebrate. According to McAfee Labs, more than 28,000 computers have successfully been decrypted, thanks to the campaign's efforts. They report that more than 10 million dollars have been saved as a result.
Happy 1st #anniversary to the #NoMoreRansom project! 🎂 Thanks to all partners for the hard work & shared efforts to combat #ransomware! 🔐 pic.twitter.com/lESaWgZsRz

— EC3 (@EC3Europol) July 25, 2017
Their website, nomoreransom.org, offers free tools to help users decrypt their files. It also provides ransomware Q&A, cyber crime prevention advice, and decryption tools for known ransomware. Beyond help with big-name ransomware like WannaCry and Petya, they offer decryption for ransomwares like Alcatraz, Wildfire, Shade, TeslaCrypt, and so many others. Their advice stems from the same best practice principles that were proposed as part of the Promoting Good Cyber Hygiene Act. These tips are sound advice, and everyone who applies them will be better off in general, not to mention much more safe from cyber crime.
First, always keep your systems updated. Constantly updating and installing software patches does take a little time, but it is one of the best things for your personal cyber security. Second, create a backup. NoMoreRansom.org recommends two backups, one stored in the cloud, and one stored physically on a portable hard drive or extra laptop. Beyond that, don't trust any link or email or message that is not familiar to you. If it looks suspicious, it probably is. Your best friend's or wife's Facebook could be hacked, and could send you a malicious link. Even the CFO of Twitter had his Twitter account hacked. No one is safe, so stay watchful.
Hopefully with another year of success, NoMoreRansom.org will help thousands more decrypt their computers, and maybe instruct millions more on how to successfuly prevent cyber crime and ransomware. Check out even more ways to protect yourself, your data, and your company here.