Note: Google's first foray into the ISP industry might be hiccupping but rest assured that when you use Fibernet as your residential ISP, you'll get seamless service and support from your Internet and from our staff.
One reporter tested the Google Fiber network and found that speeds aren't always what they seem during downloads and uploads.
Google Fiber sounds great on paper, but in a real world application, Kansas City residents (or at least one GigaOM tester) found that there were some complaints that are perhaps strong enough to not make it the best choice for Kansas City citizens looking for the a new high speed fiber network connection.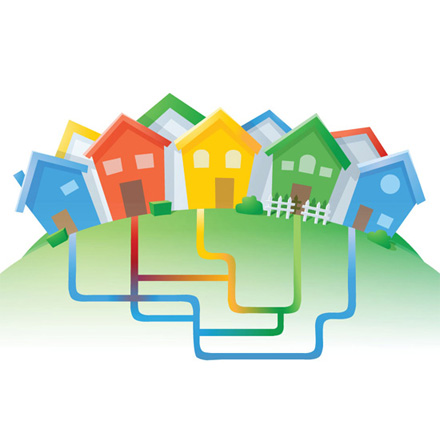 One of the first places in KC to get Google Fiber was a small locally-owned shop called the Mud Pie Vegan Bakery. Co-owner Michael Valverde said that although they didn't identify themselves, a few months before the decision was made to connect Google Fiber to the shop, Google employees were frequenting the location to scout it out and make sure it was a suitable test bed. In addition to installing the fiber, Google has given the shop two Chromebooks to allow patrons to try high speed Internet for free, to entice them to get the same service in their homes.
Although a bakery just seems like a good choice for Google (e.g. a high number of loiterers for long periods of time, drinking coffee and eating pastries), more thought was put into the decision than just that. The shop is less than one block away from the University of Kansas Medical Center. Recently, Google has been trying to push the benefits of a gigabit network connection to the medical community, and all of the research benefits it could provide. With a test bed so close to where nurses, doctors, and even patients spend time, Google is hoping that they'll check out the free demo in their off time and be convinced to get the product themselves.
The biggest and perhaps most obvious limitation to Google Fiber is wireless. 802.11n can't handle gigabit speeds so no matter how fast the connection is going into your router, coming out of it, your speeds are severely reduced. And, because the most used devices today are wireless, getting a fiber network connection might not be worth it to the average home user. Having said that, the speed tests that one GigaOM reporter tried via a hard line ethernet connection were highly impressive. And another note about gigabit speeds over Wi-Fi is that while the speeds aren't nearly as fast as what you can get over a jacked in ethernet cable, they are the fastest wireless speeds you'll find.
Note: Depending on where your business is located, getting high-speed Internet for your server might be a roadblock to serving your customers. Try a colocation suite with Fibernet to ensure quick server interactions from your site to your clients.
Despite the encouraging speed test results, when the tester tried to actually download big files from the Internet, he was looking at fourteen minutes for a 1.4 gigabyte download. That seems entirely too slow for a gigabit connection. The explanation may be that the site hosting the 1.4 GB file for download just couldn't keep up. We've stated before, the Internet is a two-way road and although Google Fiber is blazing in one direction, other servers or clients might not be able to match the speed and see the benefits of having a fiber, high-speed network connection.
It was unclear in the GigaOM article, but it was rumored that Google might be using a passive optical network (PON). This means that network speeds would be reduced depending on how many other users are on the network, or by a few users sucking up a lot of bandwidth. Even if there are no other users on the network, if you buy Google's package plan that includes a Nexus device to use as a set-top cable box, you'll be streaming shows through the network that way, and recording multiple shows, with a TiVO-like Google solution.
Another complaint that's gaining steam is that the set-top cable box that streams to users' TVs doesn't have popular channels like ESPN, Disney, Comedy Central, or HBO. Other barriers to entry that are being heard 'round Kansas City are people still locked into their current cable contracts, and that Google Fiber doesn't offer a landline for those who use faxes or home alarms via landline. While there are services that do both of these things over the Internet, the bottom line is that it might be another reason for why someone wouldn't want to jump onto the Google Fiber bandwagon.
To read about all the Google Fiber excitement when it started last week, check out our last blog post about the official launch.