Note: When your personal network connection is running at 1 gbps, you have better things to do than monitor your own server. Check out Fibernet's colocation suites that ensure your server is some place safe and secure.
After winning the bid to get free installation of a high-speed fiber network in February 2010, it's finally happening in Kansas today.
Today, Google finally launches the fiber network it promised to install in Kansas City all those months ago. This project began in February 2010 with first building the backbone of the network. If you recall, Google launched a competition as to which city would receive the gift of a high-speed network. Kansas City won the top prize. The project has undergone a few setbacks and delays since then, but today is the official launch day.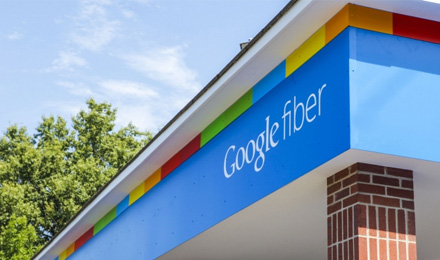 While this benefits Kansas City greatly, there's a bit in this for Google as well (besides good publicity). With an established 1gbps network, Google and others can experiment with new business models or apps that require 1 gbps network speeds.
Note: Don't limit super fast network connections to your home network – use Fibernet's colocation services to get incredibly fast network speeds for your server as well and keep your customers happy.
Kansas City however isn't the first city in the United States with a 1 gbps connection. GigaOM highlighted the struggles of Chattanooga, Tennessee's brand new 1 gbps city-wide network. A super fast network is limited by what real-life applications you have for it, and Chattanooga is finding it difficult to come up with enough applications for the network.
For example, if the person you're sending that amazing new visual media display to doesn't have as fast of a network connection as you, it won't be so amazing to them – it will just be choppy and slow. One group of investors and entrepreneurs has set up shop in Chattanooga to try and come up with the next killer 1 gbps app to visualize to the rest of the nation that high-speed fiber network connections are really worth the investment. The group is called the Lamp Post Group, and so far, their efforts haven't developed anything substantial.
One partner, Jack Studer, and another tech guru, Brian Trautschold, tried to bring in outside help to brainstorm what the killer application of a 1 gbps network could be. They had twenty-one entrepreneurs come in May, and eleven students in June, come and try to be a part of a thought incubator, to come up with a paradigm-shifting idea. The best ideas generated from the student session were: instant universal translation, facial recognition in real time for security applications, a smarter grid for home electricity, workstation apps as a service (e.g. delivering Photoshop via the cloud).
Studer thought all the ideas were laudable but none were the groundbreaking app he was really looking for. He recognizes that the shortcomings of his project are that they haven't enticed enough people to come and take part in the incubator, aside from the technical limitations to implementing the killer idea when they find it. For example, lots of the home computers hooked up to this blazing fast Internet connection are old, and can't even process everything the network delivers as quickly as it delivers.
The hurdle that others on the Internet don't have the same connection speed as Chattanooga or Kansas City is fast disappearing. Fiber networks are cropping up all over the nation, including right here in Utah, or course. And undoubtedly, with Google on the case, the next killer app for high-speed networks will be along shortly. While that might not be here right now, there are plenty of examples of residential users and business users seeing a huge increase in network speed that then improves their business and quality of life. At the very least, fiber network connections allow easy browsing of the Internet for everyone in the house, without slowing down.
To read more about residential Internet, check out our blog post about Utah being second in the nation for the number of citizens with home Internet access. Hopefully we'll soon have another city with Chattanooga and Kansas City with all fiber networks.