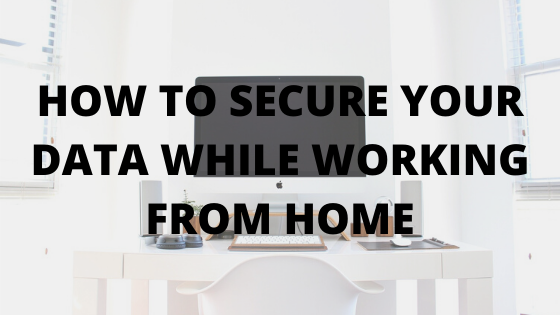 The doors are locked securely, security cameras are in place, and intruders are warned of a dog on guard. You wouldn't allow thieves to enter your home without a fight, why would you let cyber attackers access your sensitive information through your computer? Many employees now working from home due to coronavirus find their data in a vulnerable place. Virtual Vocations' article "Cybersecurity Issues Remote Workers Need to Fix Right Now" by Daniel Carter suggests ten ways remote workers can beef up their cybersecurity right away. 
Step One: Create redundancies and daily backups. Check out how to start backing up your data here.
Step Two: Use a clean device. Either use a computer provided by your employer or make sure your personal computer has a clean install of the operating system you are using.
Step Three: Update your OS and software. You want to be working with the latest OS and software installations to make sure you have the right patches for security holes in old software.  
Step Four: Use strong passwords, never more than once. Every account you have online needs to have a different username and password.  
Use eight characters or more.

Mix up uppercase and lowercase letters.

Include at least one number and special character.

Avoid using words that can be looked up in the dictionary.

Do not use information such as names or birthdates that can be personally identifiable.
Step Five: Enable Multi-Factor Authentication (MFA). MFA adds another level of security in the event that your username and password are compromised (Check out this great article on MFA).
Step Six: Encrypt your traffic by sending it through a Virtual Private Network (VPN). A VPN will encrypt your connection, therefore, hackers will have a hard time identifying your location. You can also check if the website you're visiting has a secure connection (HTTPS) to secure network communication.
Step Seven: Secure your network. You can either disable your Wi-Fi connectivity and plug your computer directly into your router with an Ethernet Cable or you can set-up a hidden Wi-Fi network with credentials only you know about. You can also restrict router use via MAC addresses.   
Step Eight: Install a durable antivirus and firewall program. Shop around to find the best antivirus software on the market.  There are also free options such as Avast, Panda, and Avira.  
Step Nine: Keep yourself updated on cybersecurity news. Many cybercriminals are taking advantage of people during the pandemic. For instance, most recently scammers have been sending emails or social media messages acting like the World Health Organization or the Centre for Disease Control (CDC), then steal your information when you click on their links. Be informed before you become another victim of scams.
Step Ten: Just as you are practicing good physical hygiene, like washing your hands regularly, practice good online hygiene:
Never respond to unknown senders,

Don't click on any links from unsolicited emails,

Never download files from an untrusted source, and

Put limits on what you share on social media, 

Sign up for Fibernet's email filtering and/or antiphishing services

  
Employers are busy managing their employees in a pandemic; Cybersecurity is the furthest thing from their minds. Don't become a victim of a cyberattack. Take charge of your cybersecurity and protect you and your employer's information today.