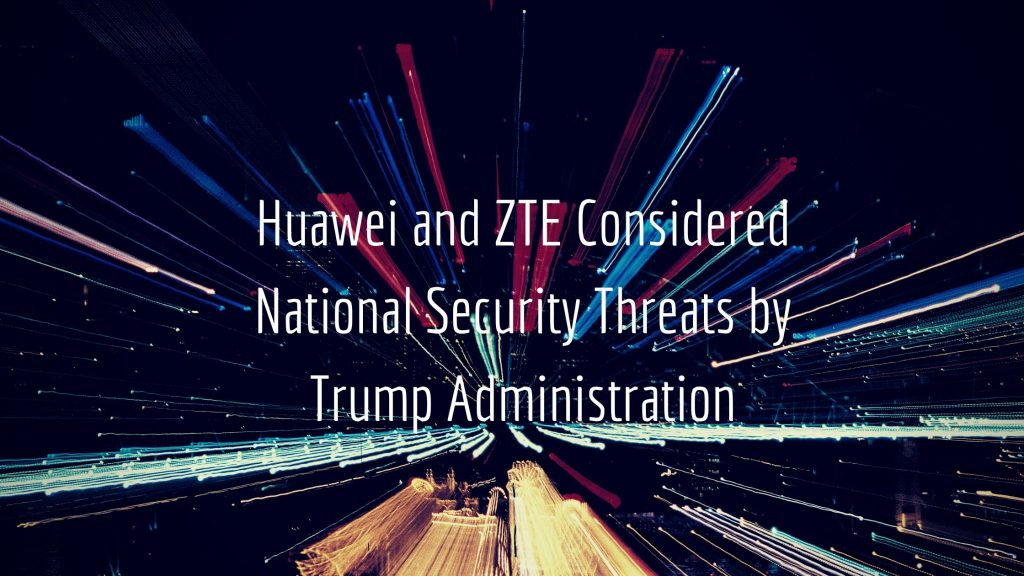 Huawei and ZTE, two Chinese telecom giants, were deemed national security threats by the U.S. Federal Communications Commission (FCC) at the end of June.  "With today's orders, and based on the overwhelming weight of evidence, the [FCC's Public Safety and Homeland Security] Bureau has designated Huawei and ZTE as national security risks to America's communications networks—and to our 5G future," said FCC Chairman Ajit Pai.   
"Both companies have close ties to the Chinese Communist Party and China's military apparatus, and both companies are broadly subject to Chinese law obligating them to cooperate with the country's intelligence services," continued Pai. "Critics of the companies have long said that the Chinese government could go through the companies' equipment to spy on traffic around the world or sabotage networks and the technologies they power," stated David McCabe a writer for the New Your Times.
This cuts off Huawei and ZTE from receiving any of the $8.3 billion government subsidy plan, called the Universal Service Fund, to purchase or maintain equipment. Most likely rural carriers will be affected because they use the cheaper Chinese equipment instead of the more expensive European equipment. "We cannot and will not allow the Chinese Communist Party to exploit network vulnerabilities and compromise our critical communications infrastructure," Pai stated.
Last year Huawei claimed the FCC was under a "mistaken view of Chinese law" to assume that the company would comply with espionage. Huawei and ZTE have not made official statements since the announcement.
Geoffrey Starks, the commissioner of the FFC, stated that although labeling these companies as a threat was a start, there is still much to do as Huawei and ZTE have equipment in use which will need to be replaced.  "The Commission has taken important steps toward identifying the problematic equipment in our systems, but there is much more to do," said Starks. "Funding is the missing piece. Congress recognized in the Secure and Trusted Communications Networks Act that many carriers will need support to transition away from untrustworthy equipment, but it still has not appropriated funding for replacements."
These latest developments put telecom companies in a bind as many are working to expand their 5G coverage. "Huawei and ZTE are seen as leading the way in 5G, far ahead of their American rivals," states Zack Whittaker writer with TechCrunch. For those unfamiliar with 5G networks, we are referring to the new generation of mobile networks that touts super-fast data speeds.
The current administration is encouraging other countries to block Huawei from rolling out its 5G network. Australia and Japan have already complied. Britain also just followed suit. "The writing's on the wall in Europe. There's no way that Huawei will remain a big supplier there," said Paul Triolo, head of the Eurasia Group's global technology policy practice.  Secretary of State Mike Pompeo said,  "With this decision, the [United Kingdom] joins a growing list of countries from around the world that are standing up for their national security by prohibiting the use of untrusted, high-risk vendors. The momentum in favor of secure 5G is building." 
Check out other times this has happened to companies by click this link.