IoT devices are growing more common every day, but not enough security could mean scary vulnerabilities that could be dangerous to your home and family. ZigBee, a popular third-party, integratable platform used to connect devices to the internet is used as an example of hacking multiple devices at once.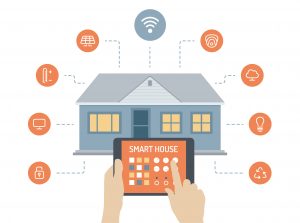 After a long day at the office, men and women go home to their families. For employees of companies with fancy cyber security, going home can mean a big change of pace. One minute you're at the office, where biometric locks and key fobs are the only ways to lock doors, the next you're using a thousand-year-old technology, aka regular tumbler deadbolts.
However, more technology is coming from the business sector to the home all the time, and it's increasingly accessible to consumers. Smart locks, wifi-connected thermostats, phone-controlled carbon-monoxide detectors, even app-enabled sprinkler systems for lawns and gardens. So much technology has even promoted a new type of home – the smart home.
It's all really cool to have such an internet-connected home, but are they liable to be hacked? New reports say yes. And not just liable to be hacked, but can be and are more accessible than you might think. One potential vulnerability is too much similarity among devices, an example being  ZigBee, a company that creates the platform which enables products to connect to the internet.
Haven't heard of ZigBee? It's bigger than you might think. ZigBee is a company that creates technology for connected devices and is used by many different IoT (Internet of Things) companies. Their customers include Amazon, Sylvania Lighting, Kwikset Locks, Philips, GE, and more. A black hat hackers convention in 2015 outlined multiple flaws in their security, showing the easiness of hacking devices with ZigBee integration.
Obviously, this was a few years ago, and the company has definitely upped their cyber security profile, but it's almost a guarantee that hackers have as well. ZigBee is a big company, and tons of smart products use them. The main differentiator is that ZigBee is a third party company, meaning it's not proprietary technology, (it's not made by that company, but just a purchased element used in the finished product). This allows for devices across the board to connect with each other, regardless of manufacturer. However, it also means that potentially you could hack into one device, and then be able to connect to multiple.
"Carbon Monoxide detectors can be hacked to go off at the wrong times, and not go off when they need to. Smart appliances can be set to cook too hot or too long, and start a fire."
It seems unlikely, but movies employ elements like this all the time, where smart locks are remotely opened or closed, letting in unsavory individuals, or locking out owners. Lights are shut off and kept off, allowing darkness to hide crime or horror. Carbon Monoxide detectors can be hacked to go off at the wrong times, and not go off when they need to. Smart appliances can be set to cook too hot or too long and start a fire. Maybe a more comical yet still devastating move would be to remotely turn on the sprinklers for too long so it floods the house. It's not always proven to be true, but it definitely could be in the near future.
ZigBee is still a reputable company, trusted by many products from reputable brands. Their products are even sold on Apple.com, whose HomeKit app is renowned itsit's high standards for security on IoT products. Here's a link to their website with a list of all the products that use their services.
The question still exists: how important is cyber security as far as IoT devices are concerned? What is needed to protect your home? How can you ensure the safety of your family? Smart devices are useful, but can potentially pose a real hazard if the industry doesn't secure the devices properly, and continually update them.