The Salt Lake Chamber is the largest business association in Utah, and has just started a new initiative to educate the community about cyber security, with their recently-announced Cyber Security Leadership Council. Learn more about how it can benefit you here!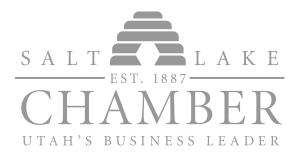 Utah is home to some of the greatest outdoor adventures you could ever dream of. With 5 national parks, 14 ski resorts, and countless hiking and biking trails, there is no end to the possibilities. Beyond adventuring, people in Utah also work, and it's become home to many tech companies. So many, in fact, that Central Utah has been given the nickname "Silicon Slopes". With so much business in the tech world, the rates in cyber crime are skyrocketing.
Thankfully, the Salt Lake Chamber is now taking measures to counteract and improve cyber security in the Utah business community. On August 1st, they announced the creation of the Cyber Security Leadership Council, which consists of both public and private professionals, with the goal of educating local businesses and the general public about cyber security.
The Salt Lake Chamber is Utah's largest business association, with roots dating back to 1887. According to their website, "the Chamber stands as the voice of business, supports its members' success and champions community prosperity." It's mission is to create environments for local business networking and growth, as well as lobby for laws that reinforce the businesses values they advocate.
This announcement to create the cyber security council came with the announcement of companion events, each based on different cyber security and business elements. These include Cybersecurity Awareness Month, Cyber security Business Roundtable Series and the 2018 Cybersecurity Conference. These do not have official calendar dates, but this blog will be updated with more information as those dates become available.
Upon announcement of the Cybersecurity Leadership Council, the CEO and President of the Salt Lake Chamber, Lane Beatle, was asked for his comments. He said that "One of the biggest threats to Utah business that often goes unmentioned [is] cyber attacks. "No matter the size of the business or organization, cyber attacks hurt. The financial burden, the cost of business disruption, and the loss of consumer trust are bad for any business. That's why as Utah's 'voice of business' the Salt Lake Chamber is making it a priority to raise awareness about the importance of cybersecurity for businesses of all types and sizes."
Lane Beatle is right. A cyber attack can cripple or ruin a business, sometimes temporarily, sometimes permanently. It only takes one attack to cripple a company, no matter the size. Maersk, one of the biggest shipping and logistics companies in the world, lost almost $300 million in one day from a single cyber attack. The same exact attack also affected FedEx, and shut down more than 60 hospitals in the UK, affecting patients, doctors, and it even prevented heart surgeries from happening. All this, and a total of more than $4 billion in damage, came from one cyber attack. And there are more than 10 million cyber attacks attempted per day, according to Heimdall Security.

If you are a local Salt Lake business interested in learning more about this Cyber Security Leadership Council, contact the Salt Lake Chamber for more information about how you can attend their meetings, or become a member. If you would like to knowwhat you can do now to save your company from cyber attacks, click here to get a free Nessus Vulnerability Scan.