Note: What good is managing your own server onsite if your Internet connection is throttling your efficiency? Get business Internet from Fibernet today to get incredible speed and to impress your customers.
Colocation data centers are getting bigger and better with more efficient cooling systems and greener technology managing facility power supplies.
Colocation is a great solution for companies that don't have the means or don't want to put the effort into maintaining their own data center. Despite not wanting to build their own facility, companies still look for state-of-the-art data centers to store their data. Colocation data centers still need to be as secure and as green as data centers that big corporations build. CyrusOne is a global colocation provider and subsidiary of Cincinnati Bell, and has just made one of its newest facilities operational.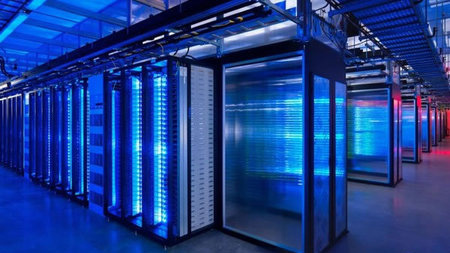 The building is 670,000 square feet and is located in Carrollton, Texas. That makes the CyrusOne data center the largest in Texas. It is also one of the most energy efficient data centers in the entire United States. Right now 47,000 square feet are commissioned and ten percent of its total space is already sold. President of CyrusOne Gary Wojtaszek said, "With this facility, we are delivering an 'enterprise quality' data center, which requires the highest levels of security and resiliency, by taking advantage of scale economies typically only achievable by 'webscale' Internet companies."
CyrusOne's whole data center design was named Massively Modular. The data center provides Fortune 1000 enterprise customers 400,000 square feet of space in their raised-floor facility, in addition to about 60,000 square feet of class A office space to house their customers' employees as needed. In total, the building is almost one-quarter-mile long and can fit six 747 airplanes, four football fields, a dozen space shuttles, or two Washington Monuments.
The chief technology officer for CyrusOne, Kevin Timmons, was quoted as saying, "With Massively Modular, we are able to achieve significant construction and asset utilization efficiencies that are simply not achievable in smaller facilities, and we beat deployment speed of most of the 'data center in a box' solutions that are currently being marketed – getting our Carrollton facility to market in just 14 weeks. Aggressive sourcing enables a speedy commissioning of the site, which, in turn, enables us to deliver inventory just in time to best match our customer demand."
Unwilling to rest on its laurels, CyrusOne is already looking to the future. The company wants to continue to optimize its facility in order to improve the return on its customers' investments. It plans on doing this through industry innovations with power and cooling throughout the entire facility. Right now, the building is designed for sixty megawatts of power capacity (roughly equal to powering 60,000 residential homes) and its power usage effectiveness (PUE) is the best of any Texas data center. The current efficiencies in the data center are from custom-built, pre-manufactured indirect evaporative cooling systems, in addition to automated air management systems.
Note: Sometimes users shy away from colocation as a solution because they don't think they'll get enough privacy for their custom systems. Get a colocation suite from Fibernet today for the most private colocation solution on the market.
Timmons continued to say, "This approach to cooling the facility is on the cutting edge in terms of design. But what we're most excited about are the cost efficiencies. Eighty percent of the year we are essentially cooling the facility for free, and that's real 'green' savings we can share with customers. What this means for a typical corporation is as much as $1 million in savings on annual expenses and a reduction in the company's carbon footprint. We believe it is better than any multitenant solution provided in the market today."
The specs of the Carrollton CyrusOne facility are certainly impressive. The Fibernet data center, just like CyrusOne, is always looking to innovate its current offerings, including its energy efficiency. We also stand by what Mr. Timmons said about going greener – spending the money upfront to install more efficient cooling and power systems pays off in the end with more savings for our customers (which is what we're all about).
To read more about how colocation in Utah is a great choice, check out our blog post about Utah's economy thriving despite the national economy.