Pluralsight Live is a major business event taking place this month in Salt lake City. Hosted by Pluralsight, a local but prominent online tech course company, the event includes a keynote address from former First Lady Michelle Obama, and other speakers and panel discussions about cyber security. If youre willing to pay 900 bucks, it should be very instructional.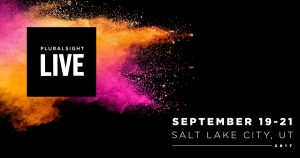 Pluralsight is one of the biggest tech companies in Utah. In a nutshell, they provide online courses for anyone looking to learn more about technology, whether it's how to code, or how to use AutoCAD. You can use their services to become SSCP certified, or become a CompTIA Advanced Security Practitioner (CASP) CAS-002, and much more. The company has seen tremendous success since its beginnings in 2004, has now grown to a multimillion dollar corporation and a leader in the digital training industry. The event is September 19-21, in Salt Lake City, Utah.
Pluralsight offers more than just online courses, and this month they are hosting an event called Pluralsight Live. It's a conference where different speakers will address a plethora of topics, including emerging technology, digital strategy and maximizing their platform to better reach their customers. Mariangel Babbel called the event "a gathering of the tech and business elite".
The keynote speaker for the event is Michelle Obama, former First Lady of the the White House, wife of former President Barack Obama. Sources don't say what her topic will be, but speculate she will be addressing the public about positive change in the workplace and the technology industry.
Other speakers are set to talk about many different topics, with many being about cyber security. One panel will speak on Sept 21st about Thwarting Security Threats in a Dynamic Digital World. The panel consists of Dale Meredith, John Elliot, Troy Hunt, Megan Manfre, all industry experts. Their discussion has been summarized as the following: "Ransomware. Viruses. Espionage. It seems like the threats to IT security are growing in number, breadth and sophistication. What can you do to better protect your entire IT estate, identify breaches and recovery quickly? Our panel of renowned industry experts offer advice, perspective and insight." (pluralsight.com)
Pluralsight commented on their event, saying it would be a game changer. "Out from behind the computer screens, lines of code, tangled cords and clogged inboxes is a community breathing life into fresh ideas. They push the boundaries of what's possible, inspire one another, and share it with the world. They're innovators, change-makers, mentors and friends. And they don't just keep up with the pace of technology, they set it. Energy like this only happens face-to-face. It only happens at Pluralsight Live."
What does this mean for Cyber Security? How could this event benefit someone seeking to know more about protection for their company or website? Pluralsight give 10 Top Reasons you should attend this event, you can find them here. There are multiple opportunities for networking, panels and speakers about keeping up with the latest technology and trends, and cyber security experts speaking on keeping your company safe. If you are looking for a local event to mingle with other businesses concerned about cyber security, and every other business topic, check out Pluralsight Live.
For those on the fence, there will be a concert as well, starring the X Ambassadors. Ticket prices for the event are $899 a person, with discounted option for larger groups. The Keynote address alone is $199.