Note: Fibernet is one of the oldest internet service providers in Utah and holds one of the most positive outlooks on Utah's economic future. With those years of experience, it knows what it takes to help small business's become successful ones and offers its know-how through Managed Services.
Achieving the highest ranking in Forbes annual Best Places for Business and Careers list, Utah Valley, specifically Provo, is becoming a destination for all tech companies alike.
We have all seen it on the commute between Salt Lake City and Utah Valley, also known as that enormous construction site at the point of the mountain. Right below Cabelas and above Lehi, the new Adobe Utah headquarters is starting to take shape and become the Silicon Slopes newest landmark. It is scheduled to be finished by the end of this year, complete with 280,000 square feet, lots of open space, a planned café, sports facilities, and even a climbing wall. It is also projected to create 3,000 well-paid jobs once the doors open.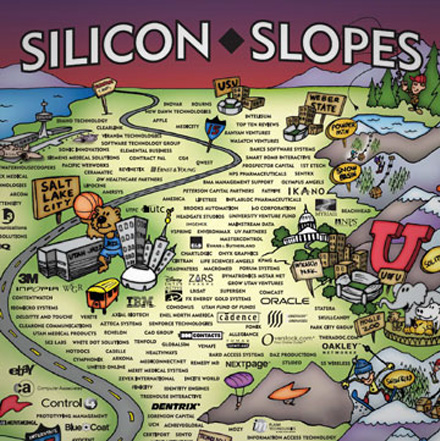 Adobe is just one of the many big name tech companies making their way to the Utah Valley. Twitter has also opened a data center on these same slopes and the NSA is still building its own data center. Over 1,400 employees from Goldman Sachs are working in Salt Lake City office space, becoming one of Sachs largest offices. Not to mention Novell has a key installation in the heart of Provo.
Thanks to this rapidly growing industry, Utah Valley, specifically Provo, has topped Forbes's The Best Places for Business and Careers list. Provo's US$16 billion economy can be attributed partially to Brigham Young University (BYU), the largest employer in the city and the third-largest private college in the U.S. BYU also contributes greatly to the growing technology industry in the valley, both in workforce and startups. Additionally, there has been an increase in population, in part due to Provo's safe environment, ranking the tenth lowest regarding overall criminal activity, which has attracted over 270,000 new residents within the last two decades, adding to the tech workforce in the valley.
But most of the valley is full of startup tech companies and other small businesses. Utah urges and continues to encourage entrepreneurs to set up shop by offering significant tax cuts for small businesses. Utah Valley is quickly becoming a basin of ingenuity and creativity for the technology industry, comparable to Silicon Valley in California.
In a recent survey by thumbtack.com, Utah "soared above its rivals" in 12 rankings which measured how viable a market is for small businesses to begin and grow. Rankings include regulations, hiring costs, ease of starting a business, zoning, licensing, tax code, etc. With all these things considered, Utah ranked the third easiest place in the nation to start a small business and the third most optimistic state about its economic future.
Along with the growth of businesses in Utah both big and small, another market opens up; supporting these small businesses. While giant corporations have the funds to perform giant operations, small businesses can struggle financially in accomplishing the most basic tasks. And with tech companies, most startups never really take off to where they want to be due to being dragged down by their equipment. This opens the door for businesses dedicated to providing the necessary services which help these small businesses succeed and reach their fullest potentials.
Note: Fibernet has been a key contributor to the growth of small business's based in the Silicon Slopes. Providing high quality internet service, professional hosting solutions for Utah Valley, and affordable virtual office suites, Fibernet is an optimal choice for helping your company grow.
Fibernet is one of those companies which provide professional services to small and large businesses alike. Fibernet provides Utah Valley with hosting solutions such as the standard dedicated hosting to cutting edge alternatives such as cloud hosting. Probably the most small business friendly service Fibernet offers is its business suites. Businesses can house their operations in state-of-the-art facilities complete with high quality Internet service, virtual hosting, and all the amenities which most corporations appreciate.
And if you're one of the many home or mobile based tech companies, Fibernet also has virtual suites to offer, giving your home office the same benefits as if it were in the complex. You'll have to provide your own break room however, which, considering not having to share your fridge with dozens of other employees, isn't necessarily a bad thing.
As the Silicon Slopes become lined with tech startups, and after the Forbes and thumbtack.com ratings, we can predict the companies moving to the valley will only come faster and in larger numbers. Who knows what the next multi-million dollar company will emerge from this crowd. Needless to say, it's about time the Beehive State, the economical pinnacle of the nation, gets some recognition.