Which do you prefer, LinkedIn or Snapchat? For business, it's a no-brainer. For cyber security news, it's starting to look like a toss-up. Read to find out why.
Snapchat Discover is usually the perfect tool for the average American millennial to catch up on celebrity gossip and fashion trends. In reality, the information displayed sells but isn't super relevant. Or is it? Turns out the information can be useful, and it's presented in the perfect way: Easy to Read. Today's feature? Wired Magazine, and cyber security.
Wired is a publication that features stories about business, science, technology, gaming, gear, and more recently, security. All these topics are relevant to today's society, and through Snapchat, reaching the 166 million daily active users. Though not all watch Wired's story, it is probable that more do that read the magazine and website.
Last Friday, the story was dedicated to cyber security. Wired published 7 articles relating to the topic. Here's what they were:

Stop Using An Unlock Pattern To Get Into Your Phone
Apparently, 64% of people can guess a phone pattern after seeing it once from 5 feet away. After seeing it twice, 80% of people get it right. Switching to a passcode brings that number down to only 11%. Stay safe!
6 Fresh Horrors We Just Learned About Equifax's Data Breach
The article talks about some pretty serious mistakes Equifax made, like certain data being encrypted, or how Equifax Argentina server login and password were both "admin". I mean, they might have lost your social security number, don't you lose it yourself, too.

The .005 Percent
Are you an Android user? Have you played Bubble Shooter? Congratulations, you've won! And by winning Wired explains that you have malware on your phone. That's not the only app that does that, either. More than 100,000 phones had malware from apps in 2016.
How Secure Is FaceID?
The new iPhone X has a feature called FaceID, where a facial scan feature unlocks your phone. Wired says that a scanned, 3D-printed model of your face could do the trick. It's supposed to be more secure than Face Unlock, a similar feature available on the Samsung Galaxy S8.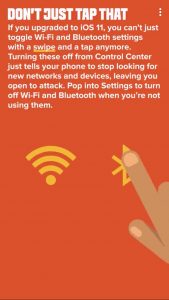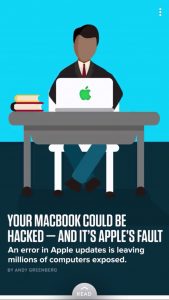 Don't Just Tap That
Apple recently released iOS 11, the new operating system for their mobile devices. However, Wired thinks it takes a step back in its quick toggle of Bluetooth and Wifi. Now, they don't actually turn off in the control center, they just stop connecting to new devices. This means that you could still be vulnerable to attack if you remain connected to a network somehow.
Your MacBook Could Be Hacked – And It's Apple's Fault
An error in firmware updates from Apple has caused a lot of computers to be vulnerable to hacking and malware infection. Duo, a security company, presented research at a recent conference about the lack of updates or warnings about out of date EFI code, or extensible firmware interface. Wired even celebrated nagging cybersecurity experts, so I felt right at home reading this one.

The U.S. Government's Cyber Security Is A Joke
A recent survey ranked the federal government as 3rd worst in cyber security, out of 18 major industries requiring lots of security. Wired offers the suggestion that "Uncle Sam needs to replace outdated software, patch current software, increase the security of its IP addresses." While this information is pretty vague, it is apparent that the U.S. has a huge need to amp up their security. Just look at the SEC.
I don't know if it's time to add your Snap username to your résumé, but you can find useful information about cyber security, thanks to Wired Magazine, and others. As of today, Fibernet does not have a Snapchat account or an Instagram, but you can definitely follow us on Twitter, or like us on Facebook, and see more updates on the world of cyber security daily!