Note: With the economy in the state doing so well, it's time to move out of your basement and into a professional office suite to grow your business. Tour Fibernet's office suites today to become a real contender in your industry.
A closer look into the facts and figures that prove Utah is seeing more employment and more employee wage increases than anywhere else in the nation.
There are lists from Forbes and Business Week and other magazines proclaiming Utah the best place to live, do business, and more. But where are the cold hard facts? Thankfully, a recent Wall Street Journal article looks at how the Utah economy has stayed afloat while the national economy has struggled. Many parts of Utah are categorized as rural and are therefore dismissed as not economically important, but in reality, statewide economic and fiscal policy has kept many rural economies, in addition to larger cities like Salt Lake, running smoothly.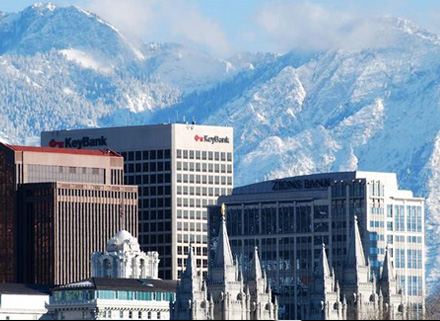 In July, the state's unemployment rate was six percent, which is more than two points lower than the national average. From May 2011 to May 2012, Utah saw an increase in 29,000 jobs (a 2.4 percent increase). The state's total personal income was $96.6 billion USD in the last quarter of 2011 and the average annual pay was almost $40,000 USD last year. Both figures are rising in 2012.
In addition to economic growth, Utah state has seen encouraging demographic shifts. The population grew by about 23.8 percent to total .276 million in the past ten years. That increase in population has been parallel to more ethnic and racial diversity as well. One study from the University of Utah's Bureau of Economic and Business Research (BEBR) stated, "In Utah, minorities are 17.4 percent of the adult population and nearly one-fourth of the youth." That was released in 2011, which is a vast improvement for state diversity in comparison to 2000, when Utah's population was 90 percent white.
Utah is also the youngest state in the country. The median age of Utah citizens is 29.2 years (eight years younger than the national median). Pamela Perlich, a BEBR economist commented, "It's because of the dominance of the Mormon culture [in the] region and the high value placed on having children. We're younger because we're having an in-migration state. . . . Those coming are young people, and young people have babies. And the people who are having babies are having them at higher rates than other states."
Of course, all of this sounds great to many businesses all over the nation. While industries like mining and natural resources continue to do well and are staples to the economy, information technology and financial and professional services are big growth industries as well. Goldman Sachs has its second-largest Americas site right in Salt Lake City, and Adobe recently came into the state and started building its 1,000-employee facility.
Note: Big companies like Adobe and Goldman Sachs can afford their own data centers, but for the average business, using a Fibernet colocation suite provides the security and privacy a private data center would, but at a fraction of the cost.
Jeff Edwards is the head of the state's Economic Development Corporation. He said, "The overriding factor working in our favor is that Utah is seen as an island of stability in a chaotic context." This is due in large part to the conservative state legislature that hasn't adjusted the five percent corporate tax rate in fifteen years. Compare that to other states, like New Jersey, where the corporate-tax structure has been changed four times since 2000 and the top tax bracket is nine percent. Again, Edwards said, "The companies we talk to with money to invest are asking themselves where to go. If you invest in Utah, you know what you're going to get."
The Tax Foundation found that the state's five percent corporate-tax rate is 1.6 points below the average of the rest of the nation. It's one of the lowest in the group of states that levy corporate taxes. It's not difficult for people in Utah to start businesses. And that is probably a big factor of why Utah is ranked fourth in the Pacific Research Institute's last U.S. Economic Freedom Index from 2008.
To read more about Utah's stellar economy and business environment, check out our blog post about the Forbes ranking Utah received – best state for doing business.