Note: It's hard to keep up with all the positive press about Utah if you don't have high-speed Internet. Get a fiber Internet connection in your neighborhood at a great price with great customer service from Fibernet.
The state has topped multiple lists and now the numbers are in to confirm what everyone's saying – Utah is a great place to do business.
The national brokerage network NAI West has just come out with a midyear report for 2012, evaluating the commercial market, real estate market, and others, across the state. We highlighted before that Utah is the number one place in the country to do business right now, but now multiple sources confirm that if you want your business to do well, you'll move it to Utah.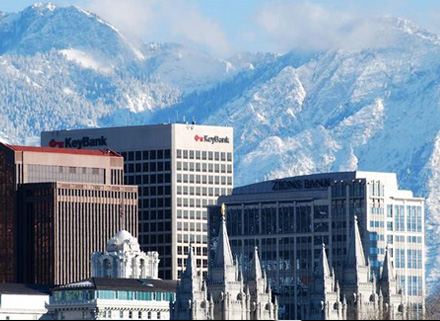 In addition to Forbes' number one ranking for Utah, CNBC also said Utah was the second best state in the nation for doing business. Again, we highlighted that Provo was at the top of Forbes Best Cities for Business, but in addition to Provo, Ogden was also highlighted as the sixth best city in the nation for business. Overall, Salt Lake City was in the 15 Hottest American Cities of the Future list, in the Business Insider magazine.
And the good numbers and good news just keep on coming, from NAI West. Utah is in the top third of the nation for the lowest unemployment rates. Currently, the unemployment rate for the state is six percent. Last summer it was 7.3 percent. The national average at the moment is 8.2 percent. Naturally this is a great spot to do business, and to expand your current Utah business.
In addition to being a tech-friendly state in general, Utah's office space is also a notable revenue stream across multiple counties. Of course this can be easily linked to the rise in tech-related businesses throughout the state that require space for employees and meetings. Recognizable names that have started constructing their own office space throughout the state include: Adobe, eBay, and Savage Industries. The current percentage of vacant office spaces is 13.98 percent, which is the lowest it's been since 2007. Additionally, the total number of square footage bought for owner-occupied buildings doubled during the last half of 2011.
Note: Even though owning office space has become more popular since the end of 2011, building a data center is still a big investment. Save time and money by renting a colocation suite in Fibernet's data center.
One growing trend in office space is to simply rent out virtual office space. Many businesses that do work primarily on the Internet have no need for workers to gather to a central location on a daily basis. Instead they simply rent out a corporate office, complete with a receptionist to greet those also attending the meeting, and hold meetings there as needed. It's a great solution for anyone who needs to look professional, or needs a business address for a business card, but doesn't want to invest the money in an office space that isn't necessary.
As the need for business real estate grows, so does the need for server real estate. Many companies that already have established servers or hired IT professionals don't necessarily want to give up that control, but also don't want to pay expensive fees to get redundant, high-speed connections to their work places. The solution is found in colocation suites, when companies have their own room in a data center under lock and key that is entirely theirs to maintain and operate. It has the security of a data center and the connections that you need to optimize your business operations, without having to pay the setup and maintenance fees of starting your own small data center.
There are lots of contributing factors to what make Utah such a great place to own a business. Progressive alternatives to office space, like virtual offices, and colocation suites to help those that don't want to build their own server rooms are solutions that Fibernet offers because it recognizes that in the up-and-coming business world, even brick-and-mortar business traditions are going to be needed, but perhaps tweaked to better fit the changing business scene.
To read more about high speed Internet connections, like the ones across Utah, check out our blog post about Google Fiber being installed in Kansas City.