Note: Students will have better access to educational materials at home with faster and more reliable Internet service. Save time and money by getting reliable and affordable Fibernet residential Internet today.
Prosperity 2020 wants to help all the tech companies in Utah, and Utah students, by teaching more technical curriculum starting in grade school.
Referred to as the Silicon Slopes, Utah is a popular location for tech companies to set up shop and offer services online. Not wanting to rest on their laurels, the Utah state government is starting a long-term plan to create more technical workers for the future of these up-and-coming local Internet companies.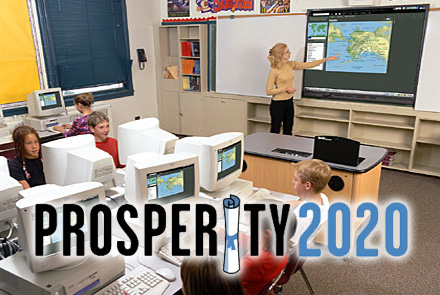 A group known as Prosperity 2020, along with its business and education partners that comprise the group, met on Thursday and started the initiative to make the greater Salt Lake City area one of the top ten centers around the nation for technology jobs and businesses. Current Utah governor Gary Herbert said that the first step will be to organize statewide planning and identifying and building on top of current successes, in addition to engendering more collaboration in science, technology, engineering, and math education.
Prosperity 2020 aims to, through investment, innovation, and accountability, improve Utah's educational goals. Overall, the group is attempting to have sixty-six percent of Utahns get post-secondary certifications or degrees by 2020. The organization also wants ninety percent of Utah elementary students to be proficient in reading and math, again to help further the goal for the greater Salt Lake City area to be one of the top ten centers in the United States for technology jobs and businesses. Governor Herbert was quoted as saying, "Great jobs and businesses start with well educated workers. By bringing industry and education together, we start recruiting tomorrow's scientists in today's classrooms."
The governor went on to point out that Utah has many high-paying jobs in the technology industry that go unfilled because the state doesn't have enough qualified citizens to fill the roles. That is a large part of Prosperity 2020's plan – to fill these jobs with local talent. Leading the charge from Prosperity 2020 is Stan Lockhart, the government relations manager for IM Flash (a tech company based in Lehi). Lockhart's primary responsibilities are to facilitate collaboration within the industry and among teachers so students have a strong background in S.T.E.M. subjects. Lockhart said, "We are truly looking for the very best practices in the world that can improve our children's skills with science, math, technology, and engineering."
Note: Businesses flock to the Wasatch front because of the infrastructure support for Internet companies. For example, Fibernet business Internet is a very reliable and cost-effective way to get fast download and upload speeds for your employees.
Utah has begun looking outwards, to other states to see what kind of business, technology, and education models are used, not only in the U.S. but also abroad. Lockhart was also quoted as saying, "When we get to the legislative session, we want to have a fully vetted product that has clearly defined outcomes where we have clearly defined improvements that we want to make so that our children are learning more. It will be a process of figuring out a logical way to proceed where we can get the right policies in place, the right curriculum, the right processes and do it in a timeline that our state can afford."
This all comes when for the second year in a row, the University of Utah has been announced as the best in the nation for starting companies. This ranking came from a survey by the Association of University Technology managers, and factors in commercialization success like startup formation, invention disclosures, patents, and technology licenses. The report measured the 2010 fiscal year to draw its results. The University of Utah had eighteen startup companies in between July 1, 2009 and June 30, 2010. MIT was second and had seventeen startups during the same time period. BYU also made the list, with thirteen startups in that fiscal year.
The University of Utah's first startup was in 1970, and since then, the university has launched 220 startups. Utah may be working hard to make sure grade school students get enough technology, science, math, and engineering, but Utah's institutions of higher education are already doing a great job of boosting the technology industry in the state.
To read more about Utah's stellar educational programs, check out our blog post about technology-facilitated long-distance learning at Utah universities.