Cyber security is the right industry to join right now, but without a degree or qualifications, it's hard to find the perfect job you've been looking for. This article talks about Utah Valley University and how you can get into their new cyber security graduate program.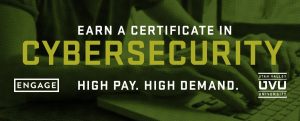 Cyber security is the fastest growing industry in the world, due to the rise in cyber crime, with attempted attacks reaching tens of millions per day. The job market is also growing, and new security experts are being hired all time, by all sorts of companies.
What does a cyber security job entail? Besides a salary with a national average of $70,000 and great job security (no pun intended), it requires credentials. Experience and prior knowledge are critical; training might be provided, but probably not from the ground up. This leaves a gap in the chain between the person and the job, which is where education comes in.
What is a cyber security graduate certificate?
Utah Valley University (UVU) recently created a new cyber security graduate certificate program, where applicable IS and IT bachelor's degree holder can complete a 2-3 semester program in order to earn the certificate.
A graduate certificate is an education credential that shows mastery in a certain subject. In the U.S. a certificate means 12-18 credits of master's degree-level courses have been completed. It is not a master's degree, rather a completion of a specialized field of knowledge.
Cyber security degrees are relatively new, and not many colleges offer programs. Degrees are available from many different online universities, but few offer cyber security-specific degrees at a brick-and-mortar school. For those who might not aspire to a degree from Carnegie Mellon or Purdue (noted for excellent cyber security programs), UVU might be the answer to a great career in the near future.
How much does it cost? (And how much can I make?)
Look at it this way. Purdue University costs $14,402 per semester for graduate work if 8 credits or more are taken per semester. If 8 credits are taken at UVU, the cost is $3,480. That's almost $11,000 less per semester.
If you look at where cyber security jobs are located (and going to be located), look no further than Salt Lake City, and Utah itself. The state is known for being one of the top sites for data centers and tech companies. Companies like Qualtrics, Domo, and Vivint (and even us, Fibernet) all have their headquarters just miles from the UVU campus, and other big tech companies are close by, like Adobe and eBay. Cyber security jobs are expected to number more than 3 million by 2021, and many of those are going to come from tech companies, and they could be the tech companies closer than you think. With salaries already reaching more than $140,000, you should definitely consider cyber security if you're looking for a career change.
Where do I sign up?
You can apply today for the program, and start classes the very next semester if you'd like. The requirements are minimal, with simply a bachelor's degree in IT or IS, or CS. However, if you haven't received a degree in a computer science field, they also allow any bachelor's degree with 1-2 years of IT industry experience, as long as you're familiar with some of the materials, like programming, or data communication.
UVU offers 9 different courses, from the basics of cyber security to specific courses like Advanced Network Forensics. 18 credits minimum are required, and once you complete the first required 12, you are free to select from a bank of different options, furthering your knowledge and preparing you to start a great career.
If you're looking for a high-paying job in a great industry, look no further than cyber security. And maybe consider UVU as a route of higher education in order to fulfill the dreams of an exciting new career.