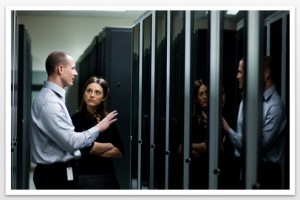 What Is Colocation?
Data center colocation is a service where a purpose-built facility houses a company's data infrastructure. Rather than pay the high capital expense to build and maintain a data center and bring in network carriers, most companies elect to contract with a data center provider to house their data and server hardware infrastructure. The primary benefits for doing so include:
Sharing the cost of a purpose-built facility with other tenants via a multi-tenant data center provider.
Paying a low monthly operational cost versus the high capital expenditures required to own and maintain a facility.
A wide selection of high-quality providers and facilities in almost every market, giving a company the ability to find the right facility according to their disaster risk tolerance, budget, carrier and latency requirements, and proximity to customers.
Price negotiating power to be the big fish in a small data center facility.
Allows a company to spread out its data infrastructure among a variety of service providers to avoid vendor lock-in.
Fibernet: The Legacy of Becoming a Colocation Provider
As an IT pioneer, Fibernet first established itself as an expert in Internet solutions in 1994. In the years to follow, Fibernet continued to build upon a reputation of expertise with the creation of national hosting brands and the construction of their own tier III type data center facility.
Today, Fibernet offers a suite of data center services and solutions based around server colocation in their two data center facilities located in the heart of Silicon Valley in Santa Clara, CA and in the heart of Silicon Slopes in the low-cost, disaster-safe Salt Lake City metro area.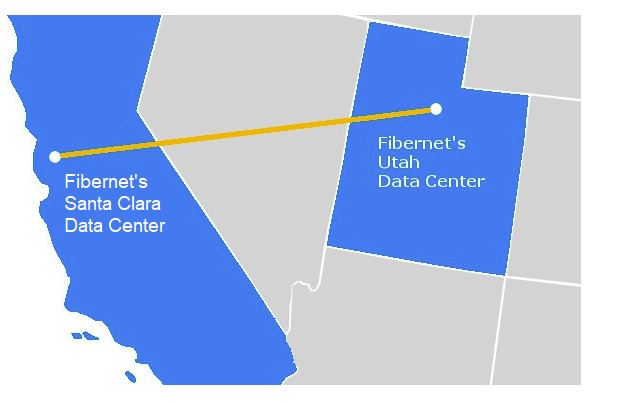 Come take a tour of Fibernet's data center facilities and see why so many companies choose Fibernet as the colocation site for their servers and mission-critical data infrastructure.
Types of Colocation
Fibernet offers a selection of colocation services and solutions that define what it means to be a colocation data center.
Server Colocation
Server colocation is the most basic colocation service – hosting server hardware, whether it be a single 1U server or hundreds of servers. Typically a single server is placed in a shared cabinet out on the data center floor.
Half Cabinet Colocation
Just larger than basic server colocation is the half cabinet colocation hosting service. More secure than shared cabinet colocation of a 1U server, half cabinet colocation is the perfect fit for startups and small companies who have just a few servers but not enough to justify a full cabinet colocation offering.
Full Cabinet Colocation
The basic unit of space in a data center facility is a data center cabinet. These cabinets are typically the same width and depth but can vary slightly on the height and the number of server U they hold. The most standard height of a data center cabinet is 42U, however, a trend is emerging of data centers using 48U capacity cabinets.
Colocation Cages and Suites
If a company were to want their own data center footprint for their data infrastructure that spans multiple cabinets then they would opt for a data center cage or private suite. While wide-open data center floor layouts tend to have chain-link cages, many data center providers such as Fibernet offer enclosed, custom colocation suites that can be dedicated to a single customer and that are more secure and private than cages.
Disaster Recovery Colocation
What would happen if the single data center you're hosting your data infrastructure in was to suddenly go down through a critical power or connectivity failure? How long could your business survive an outage? Disaster recovery and business continuity planning require recovery time objectives (RTO) and recovery point objectives (RPO) for your data infrastructure and business-critical applications. Finding a great location for a failover colocation facility footprint includes considerations such as disaster risk profiles, cost of power (strongly correlates with the cost of colocation hosting), and connectivity options.
Characteristics of Colocation Data Centers
Data centers come in all shapes and sizes with a variety of options. For an experienced colocation data center provider like Fibernet, the essential characteristics are as follows:
Power & Cooling
Essential to a data center facility is the conditioned power delivered to the data center floor and the corresponding cooling. For data center providers like Fibernet, it is essential to have the cooling capacity to handle ever-increasing high-density computing platforms.
Network Connectivity
Redundant paths and a wide selection of on-net carrier providers is the standard for any good data center provider. As a physical location for the Internet, a colocation data center provider such as Fibernet must be highly connected with diverse fiber paths entering into the building.
Disaster Risk Profile
You can't just put a data center anywhere, it has to be located in a geographic location that has a low disaster profile or you risk the threat of service disruption due to natural disasters. In the US, there is a low disaster risk zone that extends from Utah down through Nevada and Arizona which has received the least Presidential Disaster Declarations in the last 50 years.
Compliance & Security
In order for a data center to house mission-critical data infrastructure, it must first pass rigorous audits and certifications for data center industry standards such as the SSAE 18, PCI, and HIPAA compliance. Within the last few years, the SSAE 18 audit has replaced the SAS 70 audit. International audit and compliance standards include ISO 27001 and ISO 8100 PSI DSS.
Customer Friendly
While a data center can cover the essentials, it takes great customer service, support, great uptime record, and niceties such as high accessibility and even optional office space to keep a customer for a long time.
Uptime Institute Tier Rating
Data center providers go through various audits so that customers can get a third party perspective on the operating ability of the facility and provider. For more specific designations than the typical SSAE 18, PCI, and HIPAA compliances, the Uptime Institute has created a set of tier standards that further indicate the level of redundancies and operability of a data center facility. Fibernet's Utah facility is a Tier IV data center, with the exception of 2 separate utility feeds. For more information or for information on the Santa Clara data center, talk to a Fibernet representative.
| | | | | |
| --- | --- | --- | --- | --- |
| – | Tier I | Tier II | Tier III | Tier IV |
| Active Capacity Components to Support the IT Load | N | N+1 | N+1 | N After any Failure |
| Distribution Paths | 1 | 1 | 1 Active and 1 Alternate | 2 Simultaneously Active |
| Concurrently Maintainable | No | No | Yes | Yes |
| Fault Tolerance | No | No | No | Yes |
| Compartmentalization | No | No | No | Yes |
| Continuous Cooling | No | No | No | Yes |
Additional Reading & Sources
By understanding the key site selection criteria, further qualifying a data center requires an understanding of the unique advantages and disadvantages of their physical location and geography. These include the cost of power to the data center, the threat of a natural disaster, and access to fiber connectivity.
The Cost of Power
Power is the primary cost for a data center provider. The cheaper the cost of power for the data center, the lower the provider can go on price. Here is a resource to help you compare the average power rate by US state.
Source: U.S. Energy Information Administration April 2015 Commercial Power Costs
URL: http://www.eia.gov/electricity/monthly/epm_table_grapher.cfm?t=epmt_5_6_a
Disaster Risk Profile
Companies seek to minimize the threat of service disruption by selecting a natural disaster safe geographic region free of the threat of hurricanes, tornadoes, flooding, ice storms, and earthquakes. Here is a resource to help you compare which US states have the most/fewest Presidential Disaster Declarations.
Source: Federal Emergency Management Agency Disaster Declarations by State/Tribal Government
URL: https://www.fema.gov/disasters/grid/state-tribal-government
Network Connectivity
Companies require more and more bandwidth as data increases exponentially. It's important to know how many on-net providers are at the facility as well as whether they are a tier 1, tier 2, or tier 3 carrier network. Here is a network map so you can see the fiber paths across the US.
Source: Telecom Ramblings List of USA Long-haul Fiber Network Maps by Carrier Provider
URL: http://www.telecomramblings.com/network-maps/usa-fiber-backbone-map-resources/
Earthquake Map
Certainly, a company doesn't want to host its data infrastructure in a data center facility near a major fault line. Here is a resource to help you see where the earthquakes are happening and when and where the biggest earthquakes occurred.
Source: Earthquake Track
URL: http://earthquaketrack.com/