Network Monitoring & Management Software
Over the last 20 years Fibernet has established itself as a tech pioneer, and with it has developed a robust network infrastructure and network capability.
Abundant Internet Connectivity
Seven on-net carriers in its Utah data center and 20 on-net carriers in its Santa Clara, CA data center.
Private network backbone connecting the facilities.
Circuits available to customers for private backbone network architecture between Fibernet's facilities in Utah and California.
Fibernet's 10 Gbps BGP customer bandwidth solution providing the fastest path between three carrier networks.
Located on the crossroads of major East-West US connectivity.
Great bandwidth pricing and upgrades.
Connect to the data center from your business or office.
Crossroads of US Network Fiber paths
Fiber paths traversing East-West in the US pass through Salt Lake City, Utah and then branch out to Seattle, Portland, San Francisco, Las Vegas, Phoenix and Los Angeles. Latency from Utah to the west coast is low and makes Fibernet's Utah data center facility ideal for a fail over site or low cost hot mirrored site. Fibernet's Santa Clara facility is a carrier dense facility with incredible connectivity with over 20 carrier providers, making Fibernet a great choice for primary site colocation near your customers in Santa Clara and failover colocation (or low cost site) in the Utah data center.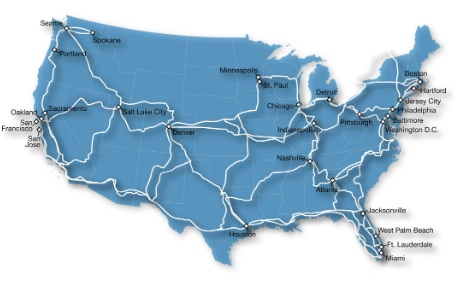 BGP Bandwidth Solution
Fibernet sells its own BGP best path bandwidth solution with it's standard colocation packages. It's a mix of 10 Gbps circuits with top tier carrier networks.
Physical and Logical Redundancies
Fibernet's network is both logically and physically redundant with multiple paths between redundant core routers and diverse fiber paths entering the facilities.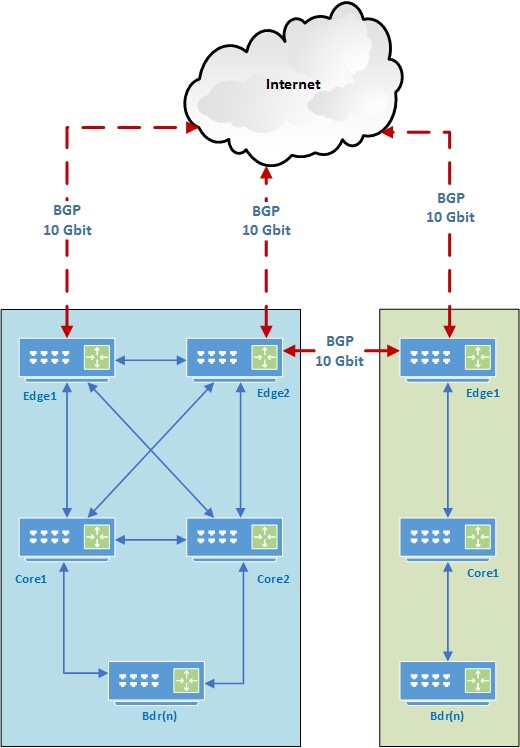 On-net Network Providers
Fibernet has 27 network carriers combined on-net with the Utah data center and Santa Clara, CA data center facilities. Contact us for more information about our selection of on-net providers and network capabilities.
Level 3
Cogent
Tinet
Telianet
NTT Comm
TATA Comm
Hurricane Electric
XO
Cable and Wireless Worldwide
Abovenet
AT&T
UUNET
Sprint
TWTC
TimeWarner
Santa Clara Fiber/SVP Fiber
Zayo (Previously Integra)
Windstream
Savvis (Century Link, Qwest)
COX
China Telecom
nLayer
Comcast
Verizon
Utopia
Private Circuits Between Facilities
Colocation customers can design a failover architecture across Fibernet's network backbone between its facilities in Utah and California. Have a primary site next to your customers in Santa Clara, CA and a failover site in low-cost, disaster safe Utah.
Fibernet Looking Glass Tool
Experience Fibernet's upload/download speeds as well as tracerouts, mtr, ping and host network tests with Fibernet's data center network looking glass tool.