The best, most basic thing you can do to secure your business is backup your data.
The best in backup solutions, Rubrik is an industry-leading data management service that blows its competition out of the water with it's easy-to-use features and affordable pricing, not to mention it's top-of-the-line technology. Rubrik leverages RESTful APIs, SLAs, on-demand analytics, and more to bring you a sleek, all-in-one software platform to manage your backups.
And the best part? Its all in the cloud — easily accessible from wherever you are and infinitely scalable.
Find out below how Rubrik is superior in the following areas:
Managing Your Data with Rubrik
An all-in-one software platform, Rubrik manages every part of the data backup process, simplifying what was previously a complex process with a high rate of failure to a low maintenance, low stress process. Rubrik can ingest large amounts of data fast to minimize affects on production loads and eliminate application stun, as well as deduplicate data to maximize storage across all backup locations.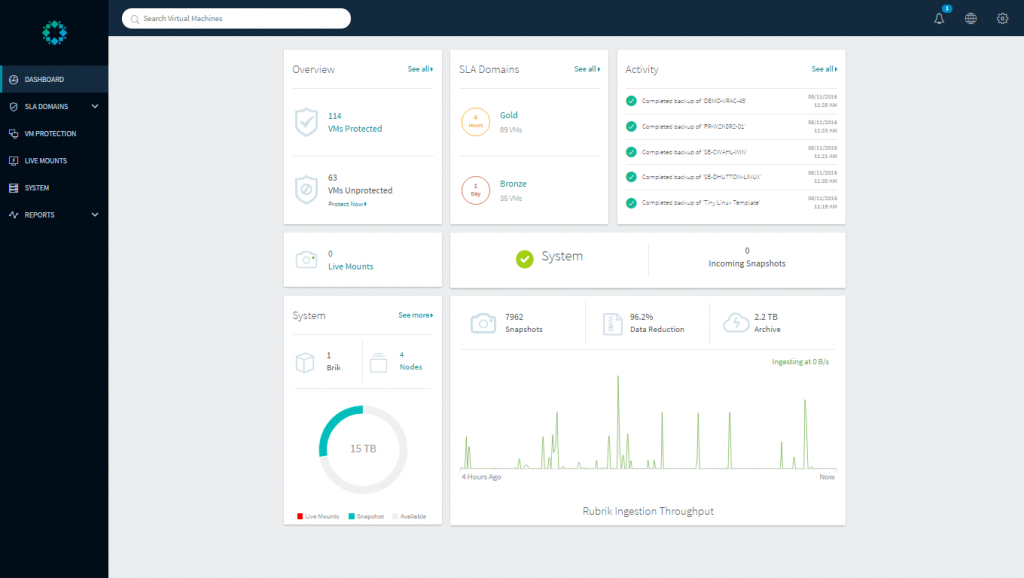 Rubrik's easy-to-use interface lets you set up and assign your own Service Level Agreement (SLA) policies, by selecting the desired retention, duration, location, and frequency of backups. Additionally, Rubrik's interface also features live analytics, so you can get the necessary insights into your data to help you manage you data efficiently.
Securing Your Data with Rubrik
In today's world, you cannot get by without ensuring the safety of your data, which is why Rubrik created their data management service with data security at its heart. Rubrik's features are made to protect your backups against the worst cyberthreats. For example, Rubrik utilizes end-to-end encryption to keep your data safe whether it is moving or on-location, so your data can't be stolen or altered. Rubrik also uses granular role-based access control to give you control over who has access to your backups, as it should be.
With Rubrik's data management, you can replicate your backups to multiple locations, further protecting your business from business-destroying disasters.
Ransomware continues to be in the top three of cyberthreat concerns, because of the amount of growth in attacks in 2019 and the steep price of recovery. Backing up your data smartly then, is one of the best, most basic, security precautions you can take. In addition to end-to-end encryption, all backups are immutable, meaning that once created, the data cannot be altered — aka ransomware proof.
Recovering Your Data with Rubrik
Instantly Recover with Rubrik by using their Live Mount feature to directly mount your VMs, SQL or Oracle databases directly onto Rubrik without any extra storage, until you are ready to move back to your main environment. Also great for testing and development.
Rubrik also makes recovery easier with predictive search. Predictive search is a relatively new feature in backup technology, and helps to save significant amounts of time during recovery. With predictive search, you can find the file you need in seconds instead of combing through files by hand for hours. Along with predictive search, Rubrik allows you to restore a specific file, as well as from a point in time. For disaster recovery, Rubrik offers full system restores, keeping the operating system and critical data intact.