California Colocation & Data Center Solutions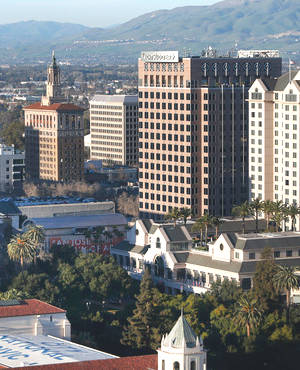 Silicon Valley Colocation
Fibernet has 20,000 sq. ft. available in its highly connected (20+ carriers on-net) Silicon Valley colocation data center.
Located in the heart of Silicon Valley in San Jose, California
Great fiber connectivity, 20+ network carriers providing connectivity
Easy freeway access and nearby San Jose International Airport
Backbone network connectivity to Fibernet's Utah colocation data center
Close proximity to thousands of tech startups, mid-sized and and large companies
Great cooling capacity and power density
Why California for Data Center Colocation?
California's Silicon Valley is home to most of the top tech brands in the world. It's legacy for tech startups is legendary, and the infrastructure behind it is staggering. While California is known for its earthquakes, the server hugger mentality is strong in California and colocation data centers are abundant.
Fibernet's Silicon Valley Colocation Data Center
In the heart of Silicon Valley is San Jose and the San Jose International airport (SJC). Many of the top wholesale and multi-tenant data center colocation providers have facilities in the regions surrounding the airport (as a simple Google earth map will reveal, with all of the power generators and cooling infrastructure visible from above).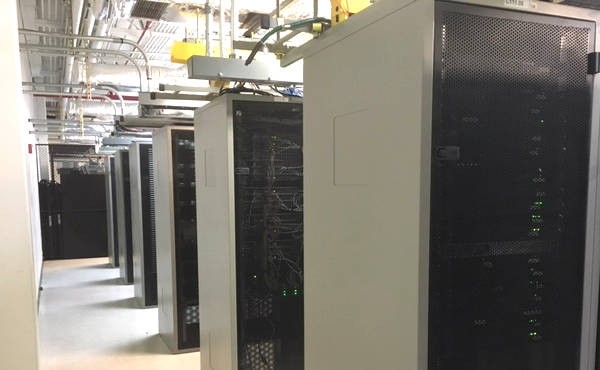 Cabinet Colocation at Fibernet's Silicon Valley Data Center
Whether you're data infrastructure requires one or several data center cabinets of space, Fibernet's Silicon Valley data center can handle your cooling, power and space requirements of up to 20,000 sq. ft. and 6 Megawatts of power.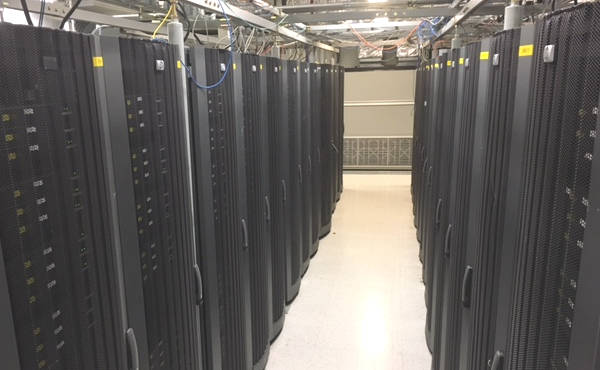 Fibernet's Santa Clara, CA Data Center Accessibility
With the close proximity to the San Jose airport and easy freeway access, Fibernet's California data center is highly accessible any time you need to go and check on your servers.
Power Density at Fibernet's Silicon Valley Data Center
Currently the facility has 6 MW of power deliverable to the data center floor. In the near future up to 20 MW of power will be available to the facility. While computing platforms become more and more dense, you can rest assured that Fibernet's California data center facility will be able to provide the power density required to power your data infrastructure.
Fibernet SJ1 High Availability
The Fibernet SJ1 facility is highly available with redundant connections to tier 1 and tier 2 network carriers, with diverse fiber paths entering the building. The power redundancies include backup generators and preferred fuel contracts. California colocation customers can rest assured that their servers located in Fibernet's colocation facility in San Jose, CA is secure, available and fitted with sufficient redundancies built in to ensure high-availability.
Network Connectivity and Data Center Services in California
With the large tech presence, colocation in California has a very well developed network infrastructure with hundreds of network carriers peering their networks. Most all major global network carriers will have a PoP in Silicon Valley and Los Angeles where the fiber paths to Asia and South America begin. The most famous colocation facility in California is the One Wilshire building located in downtown Los Angeles which has some 350 network carriers peering in their meet me room (which is where you can find the most in-demand and expensive colocation space on the West Coast). Fibernet's Silicon Valley data center has 20+ on-net carriers available to customers.
Level 3
Cogent
Tinet
Telianet
NTT Comm
TATA Comm
Hurricane Electric
XO
Cable and Wireless Worldwide
Abovenet
AT&T
UUNET
Sprint
TWTC
TimeWarner
Santa Clara Fiber/SVP Fiber
Integra
Windstream
Savvis (Century Link)
COX
China Telecom
nLayer
California Colocation Disaster Risk
California is home to a large number of tech companies and data centers in spite of the proximity to the San Andreas and other fault lines. Earthquakes are common and building codes require the facilities to withstand the forces of an earthquake. Only earthquakes pose a disaster risk for colocation in California as the state is a low risk for hurricanes, tornadoes and other destructive natural disasters. Fibernet's data center facility is purposefully built to code to withstand earthquake and other natural disaster forces.
In spite of the disaster risk profile, most every tech company in the Bay Area will host at least some of their data infrastructure in a nearby data center facility. And Fibernet has the perfect data center facility for world-class California colocation.