Private Colocation Center
More secure than a colocation cage is a custom built, enclosed colocation suite provisioned to your space, power, security and cooling requirements.
Lockable, fully enclosed room constructed on top of raised flooring
High power density and dedicated cooling capacity
Customize the floor plan, the racks or cabinets you'll use and the perforated cooling tiles
Enclosed room ensures dedicated and confined cooling
Better than a cage since a neighboring customer can't point their hot aisle right onto your hardware
More secure than a cage because it's entirely enclosed and nobody can snoop and read your cable lables
Highly customizable to meet your security requirements
Fully Enclosed Private Suite
Now you have the option of private, fully-enclosed colocation suites with custom, built-to-suit layout options. Differing from a cage-scenario, the private suite offers clients privacy and flexibility. The colocation suite is fully-enclosed with a keyed door. Consider it a mini data center for only the client to access.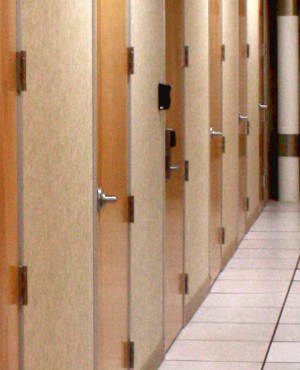 Suites provide growth, flexibility, additional security, and volume discounts for space. These suites are designed to accommodate several racks with working room in front and behind the racks. Private suites are the most secure method for collocating servers, and guarantee the continual operation of servers and the permanent availability of company data.
Our private colocation suites allow our customers to benefit from all of the amenities of our data center as well as the security of a completely private room. Our Fibernet personnel log every entry into each suite, and sends regular reports to our clients so they know who is accessing their servers.
Customize it for your needs
You can customize Fibernet's Colocation Suites to your specs, much like an onsite data center but with none of the large build-out costs and facility maintenance. Whether your company needs additional biometric access or installation of additional IP cameras, Fibernet will personalize the suite to fit your needs.
Here are just a few options to personalizing your suite:
Cooling
Power
Bandwidth
Suite Dimensions
Security
Facility Design
SSAE 18, HIPAA and PCI Compliant Facility
Zone 4 Seismic Design
Fire Suppresion
Redundant Power
BGP Bandwidth Solution
Carrier Neutral
Multiple on-net Fiber Providers
Secure Monitored Access
Common Area Surveillance
Suite Components and Options
Rack Installation and Options (relay, four post, & enclosed four post)
Hardware, Power, Application Monitoring, & Status Notifications
Cooling (Sold in 1-ton increments)
IP Camera Surveillance
Cross-Connect & Bandwidth Plans
Standard Keyed Doors, Proximity Card Reader and Biometrics
Generator Protected, UPS & Generator Protected Power Options
Onsite Support & Management Options
Colocation Suite Case Study
High Security Environment
A company in the cyber security industry needed an ultra secure environment to house their server infrastructure. Fibernet's Colocation Suite solution offered additional layers of security and data center colocation space control than traditional cage colocation. It provided them with not only more layers of security, but the privacy of their own private enclosed data center space to securely house their data infrastructure. Custom cooling, power and bandwidth solutions were provided to meet current and future growth demand. The customer now is expanding to multiple colocation suites.
Call today to get a free tour of our incredible Colocation Suites, and a personalized quote! 800.305.6995