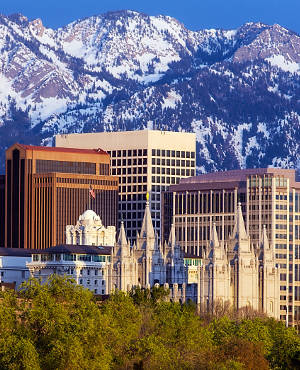 Colocation in Salt Lake City Metro
Fibernet has established itself as a Utah colocation data center pioneer IT solution company, building it's premier 40,000 sq. ft. N+1 redundant data center facility in 2002.
Located in one of the nations lowest natural disaster risk areas
Great fiber connectivity, on the major East-West US fiber path
Some of the lowest power rates in the nation
Data center site selection preferred location (Millions of sq. ft. built out in Utah, mostly large companies and government agencies)
Abundant local tech talent and business friendly local and state governments
Ideal Utah climate helps cool the data center efficiently
Major Delta hub with daily direct flights from all over the US
Why Utah for Colocation?
Utah is where most of the top data archive companies host their data, edging out Las Vegas, Denver and Phoenix as the preferred low cost, disaster safe colocation site selection. Even the NSA selected Utah as the site for its massive 1,000,000 sq. ft. Utah Data Center.
The low cost of power enables world-class data centers in Utah to offer high value colocation at a price significantly less than popular metro areas, and the disaster safe geography makes Utah ideal to limit service disruption.
Additionally, Utah is on the crossroads of internet connectivity from Seattle, San Francisco and Los Angeles to the East Coast. For those who know, Utah is a very ideal place for data center colocation.
Fibernet's Salt Lake City Metro Data Center Facility
Fibernet built its own 40,000 sq. ft. data center facility in 2002 just south of Salt Lake City. The Orem data center is ideal for colocation in Utah because of it's great selection of on-net network carriers, ease of accessibility, close proximity to a hot tech startup market and the low power cost savings and disaster recovery solutions that come with having a data center in Utah.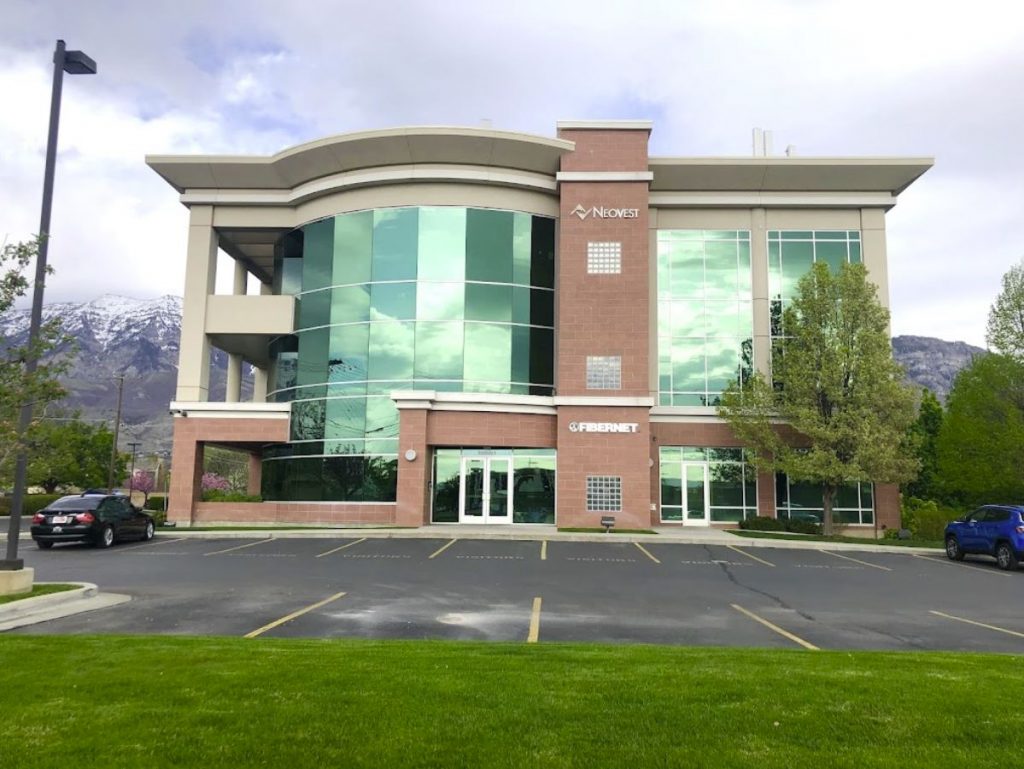 Availability / Accessibility / Efficiency
Critical to any colocation facility is the accessibility to the data center and the high availability of built in power and network redundancies. Additionally, geographic location plays a large role in the cooling efficiency of the facility.
Utah Data Centers are Highly Accessible
Utah is a major Delta airline hub and with the SLC airport rated as #1 for on-time arrivals you can rest assured that you can easily get to your data infrastructure on a moments notice. Fibernet's Orem data center is located just off a main freeway exit and is a quick drive from the SLC airport.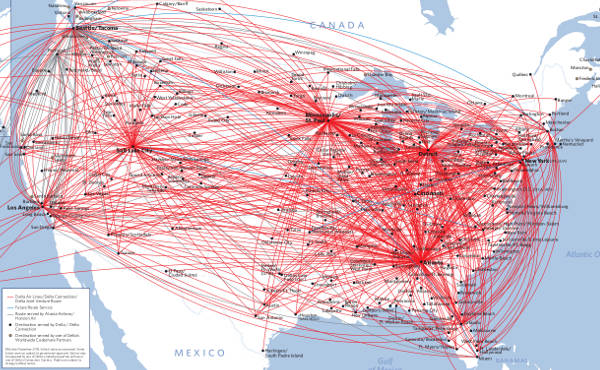 Network Redundancy
Uptime is critical for a data center provider, and there is no one better at it than Fibernet. Rest assured that your upstream network is monitored by experts who have gained credentials and years of experience solving and preventing network disruption and ensuring high availability.  Fibernet's network is redundant logically as well as physically redundant with diverse fiber paths into the building.
Ideal Ambient Air Temperature
For 9 months out of the year Utah's climate fits the ASHRAE window for ideal data center floor temperature and humidity best suited for data infrastructure. This means that data centers like Fibernet can cool their colocation facility more efficiently than data center facilities located elsewhere.
Power Grid
Utah's power costs are some of the lowest in the nation, and with Rocky Mountain Power as the main power provider, rest assured that the power supply is ample and generated from diverse methods including coal, solar and wind energy development.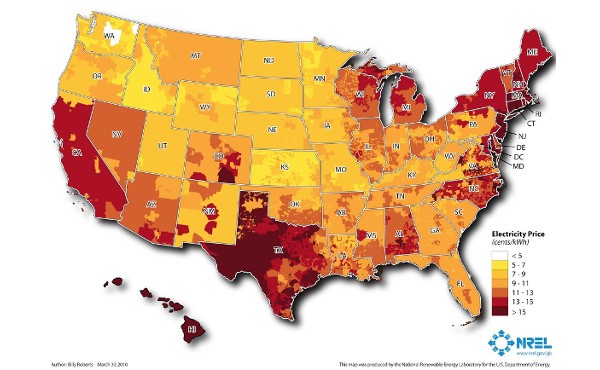 Disaster Risk Management
Void of major natural disasters, Utah is ideally located in a low disaster risk geographic region. Historically Utah doesn't register any hurricanes or ice storms, and there is very little risk of flooding, tornadoes and earthquakes. It's hard to imagine a more disaster safe region than Utah.
Presidential Disaster Risk Map
Unlike most other areas of the US, Utah data centers don't have the threat of power outages due to ice storms, flooding and other severe weather.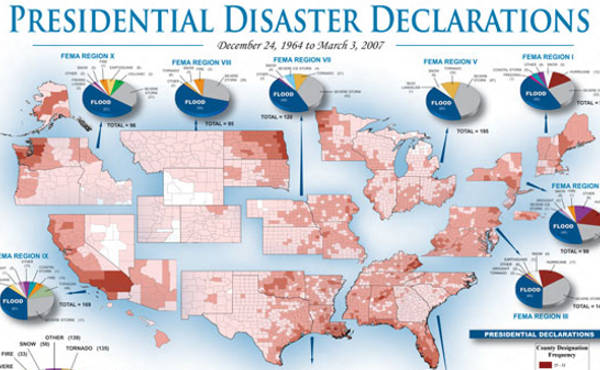 FEMA Natural Disaster Declarations by State and per Area
Compared to other US states, Utah has one of the fewest disaster incidents for its size. The historical disaster per 10 square miles figure for Utah is incredibly low. If you were to just consider the total number of disaster declarations by state and base your disaster-safe data center site selection criteria solely on that, then you'd put Rhode Island and Delaware on the top of the the list. Factoring in the area of the state normalizes the data and accounts for larger area states having more disasters than smaller ones.
Disaster Declarations by State and per Area
State
Number of Incidents
Sq. Miles
Incidents per 10 sq. Miles
Alaska
60
663,267.26
0.009046127
Wyoming
28
97,813.56
0.028625888
Michigan
36
96,716.11
0.037222341
Utah
33
84,898.83
0.038869794
Montana
68
147,042.40
0.046245165
Idaho
41
83,570.08
0.049060621
New Mexico
81
121,589.48
0.066617605
Wisconsin
45
65,497.82
0.068704577
Nevada
76
110,560.71
0.068740514
Arizona
79
113,998.30
0.069299279
Kansas
59
82,276.84
0.071709123
Minnesota
66
86,938.87
0.07591541
Nebraska
60
77,353.73
0.077565749
South Carolina
25
32,020.20
0.078075715
North Dakota
56
70,699.79
0.079208156
Colorado
85
104,093.57
0.081657301
South Dakota
68
77,116.49
0.088178287
Georgia
57
59,424.77
0.095919597
Missouri
68
69,704.31
0.097554943
Oregon
96
98,380.64
0.097580174
North Carolina
55
53,818.51
0.102195323
Illinois
60
57,914.38
0.103601213
Iowa
60
56,271.55
0.106625817
Ohio
54
44,824.90
0.120468757
Texas
341
268,580.82
0.126963645
Pennsylvania
59
46,055.24
0.12810703
Arkansas
69
53,178.62
0.129751393
Indiana
48
36,417.73
0.131803932
Mississippi
68
48,430.19
0.140408287
Virginia
61
42,774.20
0.14260933
Louisiana
74
51,839.70
0.14274774
California
242
163,695.57
0.1478354
Tennessee
63
42,143.27
0.149490061
Alabama
79
52,419.02
0.150708655
Maine
57
35,384.65
0.161086799
New York
94
54,556.00
0.172300022
Kentucky
71
40,409.02
0.175703345
Washington
144
71,299.64
0.201964554
Florida
136
65,754.59
0.206829668
Maryland
31
12,406.68
0.249865395
Oklahoma
178
69,898.19
0.254656093
West Virginia
66
24,229.76
0.272392298
Hawaii
47
10,930.98
0.429970597
Vermont
43
9,614.26
0.447252311
Massachusetts
48
10,554.57
0.454779304
New Hampshire
46
9,349.94
0.491981767
Connecticut
31
5,543.33
0.559230643
New Jersey
51
8,721.30
0.584775206
Delaware
21
2,489.27
0.843620821
Rhode Island
22
1,545.05
1.423902139
Threat of Earthquake to Data Center Colocation in Utah
Being located in the Rocky Mountains the principle natural disaster threat is that of earthquakes. But the frequency is nothing compared to California and the severity of destruction is low. For instance, the major fault lines in Utah spread apart as opposed to rubbing together (like the San Andreas fault in California) or against each other (which formed the Himalaya Mountains). So even when there is an earthquake, the damage threat is low.
Carrier Network Connectivity
Utah has a legacy of exceptional Internet connectivity dating back to 1969 when three computers in California were connected to a computer in Utah and the Internet predecessor ARPANET was born. Fast forward to today and Utah is on the crossroads of major East-West Internet connectivity. All of the major fiber providers and network carriers go through Utah, where their paths follow the freeways which split three directions at Salt Lake City and go toward Seattle, San Francisco and Los Angeles. As one of Utah's oldest data center providers, Fibernet is highly connected to major network carrier providers and highly available with diverse paths; offering all of the network and bandwidth you could ever need.
Utah Fiber Provider Paths
Utah is on the crossroads of major fiber connectivity between the East and West Coast in the US. From Utah the westbound fiber networks split and head to Seattle and Portland, Sacramento and San Francisco, Las Vegas, Los Angeles and San Diego.
Fibernet Connectivity
Fibernet has a data center facility in Utah which is one of the most connected facilities in the state and includes on-net carrier network providers such as: XO, CenturyLink, Integra, Hurricane Electric, Utopia, Verizon and Comcast.

Why Do Business in Utah?
Utah has a friendly business environment with a strong tech startup sector and available supply of expert tech talent.
Preferred Data Center Colocation Location
Join the growing number of companies choosing to host their data infrastructure in Utah. Among them are many of the archival and data backup providers, large tech companies, startups and companies of all sizes just looking to reduce hosting costs and lower their disaster risk profile. The most prominent data center facility is the 1+ million sq. ft. government Utah data center facility, which is a giant data archive facility that leverages Utah's low power costs and abundant local tech talent.
Great Business environment
Utah is among the top states in the nation to do business. The state unemployment is among the lowest in the nation, power costs are low and taxes are low. Available tech talent is fueled by two major universities just 40 miles apart spanning the width of the Salt Lake City metro area. Companies can rest assured that their business will thrive if located in Utah.
Abundant Local Tech Talent
Colocation is easy in Utah because of all of the local tech talent available to employ whether hired directly or through a managed service provider. Fibernet has their own technical staff available to assist with expert IT services and solutions should you need assistance with managing your data infrastructure.