What if you had a service that guaranteed it could stop all email phishing attacks before they were even sent?
---
Phishing costs U.S. business more than $500 million dollars a year. It's the most common type of cyber crime, and it affects thousands of companies every year.
No matter how strong your cyber security is, any user, employee, or staff member could receive an email or text that could cripple your network and cost your company millions.
You could set your spam filter so high that you don't receive any emails and then you're set for life, but in reality who is going to do that?  You risk losing valuable customer communication, not to mention everything else. The main benefit is you don't see all the work you have to do, so you look at an empty inbox feeling pretty good!  
What you need is cyber security specific to phishing. What you need is Area1.

Area1 is an exciting cloud-based service that stops phishing attacks before they start! We were skeptical at first – how is that possible?
It works by searching out phishing attacks targeting your company "in the wild", long before they reach you and your network. Through revolutionary proprietary methods, it discovers and stops emails from reaching the end users. It protects against all types of attacks, from whaling to ransomware emails.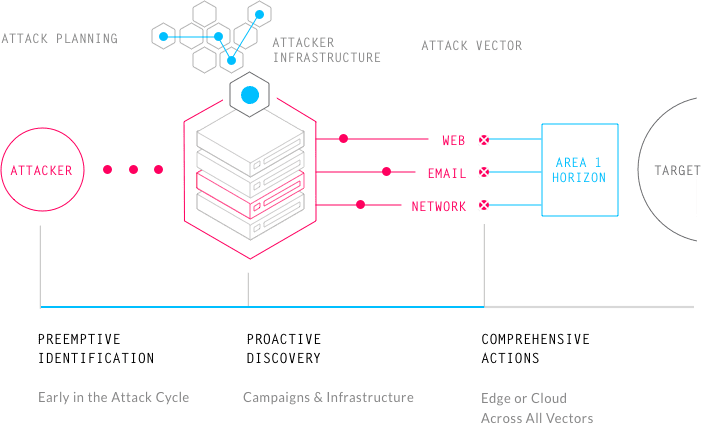 The diagram above shows the blocked methods of attack using Area1 phishing protection.
---
The best part about Area1 phishing protection is that it is the only cyber security product available that is dedicated and specific to protecting against phishing attacks.  It also works on all traffic vectors, email, web, and network.
Area1 has 3 features that make up its phishing filter:  See Ahead, Act Ahead, and Get Ahead. Keep reading to see how they work for you to protect you from schemes that can cost you or your business millions.
See Ahead 
See Ahead provides a management control panel, allowing for easy organization of the activity going on to protect them from growing threats in the world. This view allows users to easily prepare for the phishing threats that might target them in the future. Area1 can preemptively detect and block a phishing attack up to 363 days in advance.
See Ahead gives you a future view of local and global phishing campaigns. Whether its a targeted phishing, spear phishing, or whaling attack against your organization or executives, Area1 researches and discovers emerging and active phishing activity and shows you how it could affect you and your company. See Ahead and get insights into what's coming.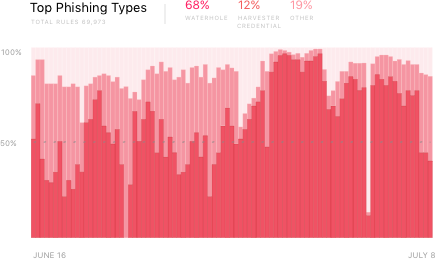 Act Ahead
Act Ahead is your defense on the homefront. Area1 can integrate with different devices and applications, like web proxies, email devices, intrusion prevention systems, firewalls and more. It creates and enforces rule sets and take other security measures to ensure you can fend off all unwanted phishing attacks.
Act Ahead is set to stop all targeted attacks on your organization. Not only does it implement preemptive action in stopping phishing schemes before they start with proprietary technology, it fortifies your current cyber security and defense. It can easily integrate with your workflow and security orchestration thanks to a RESTful API. Act Ahead and build up your defense.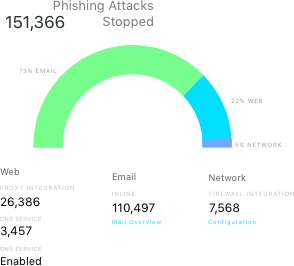 Get Ahead
Get Ahead is the long-arm of the phishing law. It looks for relevant indicators in close-to-home areas and in the wild to ensure that all developing phishing attacks are shut down. It intercepts relevant messages before they get to your inbox, using a cloud-based transfer agent. It also has a cloud-based DNS service to protect users from web-based phishing campaigns.
Get Ahead is the paragon of email protection. It works to stop any and all phishing emails and attacks, whether ransomware or other malware, BEC, or spoofing messages.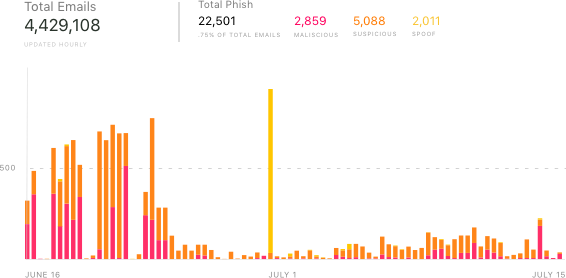 We are so excited to partner up with Area 1 and provide this service! The benefits of having it far out weigh the cost, and in these days where more and more effort is spent on cyber crimes, it's a no-brainer to get this service.