As soon as you see what Imunify360 can do for you, you'll wonder how you ever lived without it.
As cyber threats become more real every day, the need for excellent security software only increases. You need to protect your server, your website, and all your web applications. DoS attacks, malware, phishing, there are a lot of bases to cover. Now, you can manage them all with the next-generation security solution Imunify360.
Imunify360 is the perfect security solution for web servers. Its AI (Artificial Intelligence) learning technology collects data and insights from all over the world and connects the dots to provide the best protection against cyber attacks of all kinds. Imunify360 is designed specifically for Linux servers and supports CentOS, RHEL, and CloudLinux. It also offers support for cPanel and Plesk control panels.
This incredible security product is nothing like you've ever seen before. Created by CloudLinux as an addition to their security features, Imunify360 is an easy-to-use product that organizes your security effort into a Centralized Incident Management dashboard.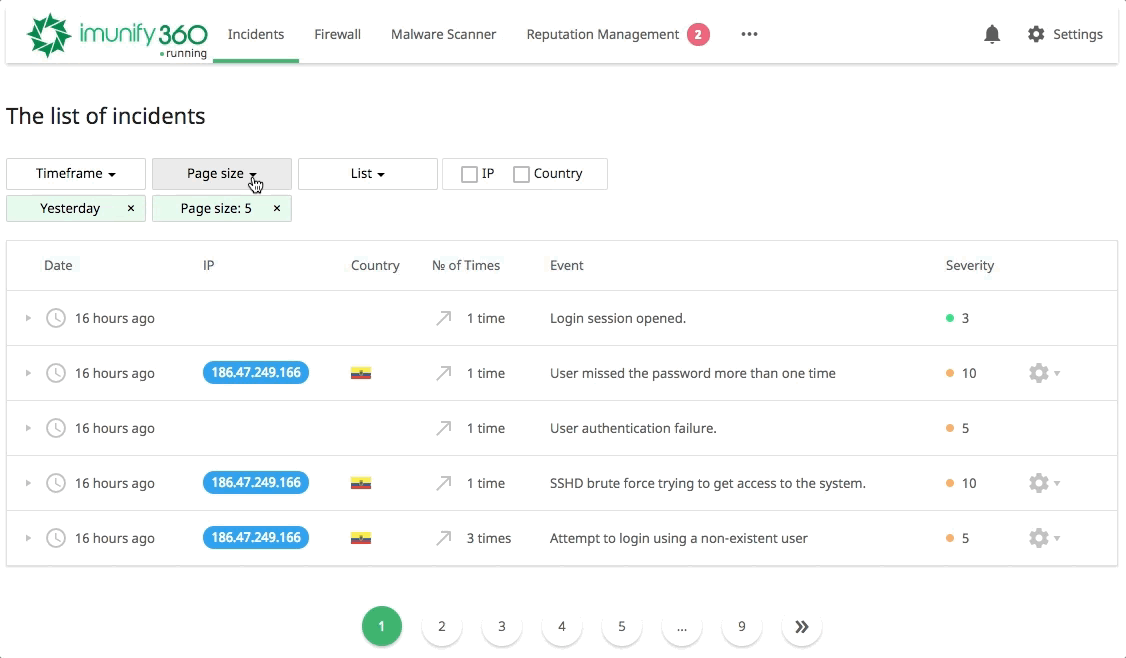 The Imunify360 Difference
This is the system that proactively works for you to prevent cyber attacks in real-time. Imunify360 draws from its powerful AI technology to protect against security threats. It automatically secures your kernel and older PHP versions. It protects web applications as well, preventing malware injection and defacement attacks. In a nutshell, is "highly effective in catching more bad guys while stopping fewer good guys." (Imunify360.com)
---
Features
Advanced Firewall
Using herd immunity and artificial intelligence, Imunify360's Advanced Firewall is capable of protecting servers against brute force attacks, DDoS attacks, and unwanted port scans. It integrates mod_security web application firewalls to improve its capability. It also uses an advanced Captcha system, integrated to make sure that bots and false positives don't reach your site.
IDS/IPS
Imunify360 has an Intrusion Detection System/Intrusion Protection System (IDS/IPS) that includes a comprehensive collection of policy rules that quickly block all known attacks. Anything with commonality to a well-known exploit will be stopped as soon as it starts. The IDS scans log files, blocks malicious IPs due to password failures and potential exploits, and more.
Malware Detection
"Over 68% of hosting providers say that malware infection is a top issue for their customers' web servers." (Imunify360.com) That means that chances are you have or will have that problem. Take care of it with Imunify360 Malware Scanning. It automatically scans all file systems for anything that is malware-infected and quarantines those files.
Sandboxing
"Imunify360 uses AI to learn what is and is not OK for your web applications to do and can create safety sandboxes around your applications."(Imunify360.com) Sandboxing is like a mini virtual server that allows the testing of software and applications without negatively affecting the rest of the server. Now you can have these same useful features without having to pay the big bucks for others to do it for you.
Patch Management
Updating programs is so important for cyber security, but sometimes a required program isn't updated to be compatible with other, newer applications, or vice versa. With Imunify360, you get Rebootless Secure Kernel (Linux), which automatically patches kernels without having to reboot the server. Patch checks run every 4 hours, so you always have the latest. Beyond kernel care, HardenedPHP is a component that patches PHP, so customers can run any version without leaving gaping holes ready to be exploited.
Reputation Management
If your site or any of your IPs are blacklisted, Imunify360 can help with its Reputation Management application. It monitors Google blacklists and notifies you when any of your domains or IPs are listed.
---
If you are a web host or own or maintain a website, you need Imunify360. It's that simple. If you're still not convinced, give Fibernet a call, or fill out a form, and get a free trial or demonstration today!