Fibernet is a 100% pci compliant data center
In September of 2006, the leading payment brands, including American Express, Discover, MasterCard, Visa, and JCB International, founded the Payment Card Industry (PCI) Security Standards Council with the express purpose of establishing and promoting-on a global scale-the adoption of certain, consistent data security measures. These measures are outlined in a comprehensive set of requirements called the PCI Data Security Standard (PCI DSS); such requirements include stringent mandates for security management, policies, procedures, network infrastructure, software design, and other security elements.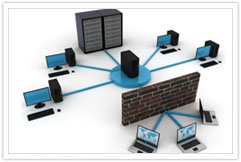 The specific requirements stated in the PCI DSS can be found on the official website of the PCI Security Standards Council as follows:
Build and Maintain a Secure Network

Requirement 1: Install and maintain a firewall configuration to protect cardholder data
Requirement 2: Do not use vendor-supplied defaults for system passwords and other security parameters

Protect Cardholder Data

Requirement 3: Protect stored cardholder data

Requirement 4: Encrypt transmission of cardholder data across open, public networks

Maintain a Vulnerability Management Program

Requirement 5: Use and regularly update anti-virus software
Requirement 6: Develop and maintain secure systems and applications

Implement Strong Access Control Measures

Requirement 7: Restrict access to cardholder data by business need-to-know

Requirement 8: Assign a unique ID to each person with computer access

Regularly Monitor and Test Networks

Requirement 10: Track and monitor all access to network resources and cardholder data
Requirement 11: Regularly test security systems and processes

Maintain an Information Security Policy

Requirement 12: Maintain a policy that addresses information security
The PCI DSS is foremost intended to help organizations that accept, process, and store sensitive payment account information protect that data from being compromised. The PCI Security Standards Council understands that the PCI DSS may be subject to modifications as new security risks arise and will enhance the listed protocol as needed, while continuing to promote PCI compliancy wherever it applies.
At Fibernet we are a 100% PCI Compliant Data Center that has been around for 15 years. We pride ourselves in helping our customers out and becoming the best PCI Compliant data center. If you would like more information on how we can help you to become 100% PCI compliant please contact us at 801.223.9939.