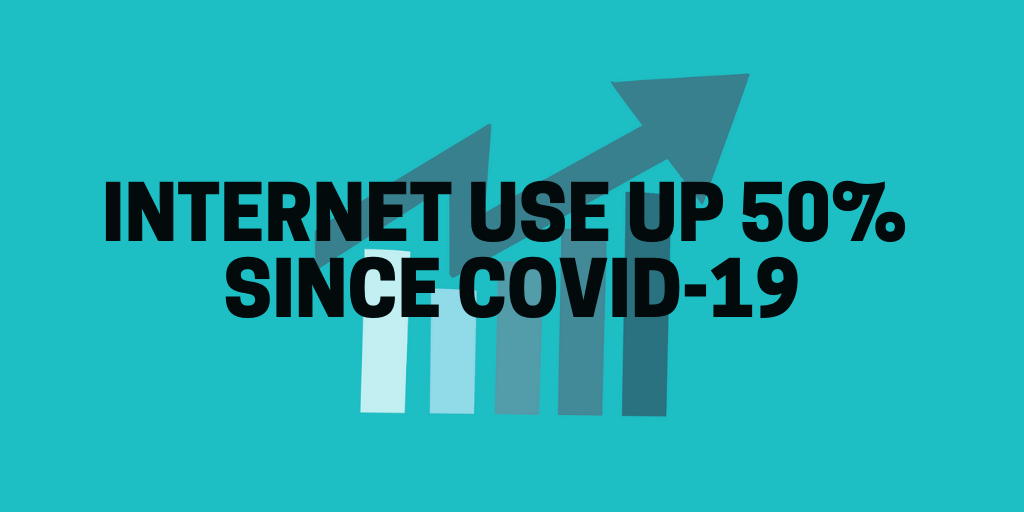 In January 2020 when many Americans were writing new year's resolutions, little did they know of the impending pandemic that would drastically change their lives just three months later. One of the most drastic changes is how much we rely on the internet to stay connected.  "Entire families are sharing home Wi-Fi networks as kids turn to online learning resources, parents conduct meetings over Zoom, and everyone watches more video" states Wired's, Kling Finley. "With nearly all public gatherings called off, Americans are seeking out entertainment on streaming services like Netflix and Youtube and looking to connect with one another on social media outlets like Facebook", writes Koeze and Popper of The New York Times.
Total internet use has increased by 50% to 70%. In some places, Netflix traffic has increased 54 to 75 percent according to Nokia's network analytics company, Deepfield.  Teleconferencing increased by 300 percent and online gaming has increased by 400 percent reported Deepfield. According to the New York Times, news sites have also seen an increase in readership, with popular news sites like The New York Times and The Washington Post had 50 percent more traffic. Not surprisingly, the Center for Disease Control and Prevention has received millions of hits way ahead of all other news sites.             
Surges in internet use has led to decreases in internet speeds in some places. Areas that were greatly impacted by the Coronavirus like Westchester, New York, and San Francisco saw decreases in their internet speeds during the week of March 2nd – March 9th according to internet analysis company, Ookla. Luke Deryckx, CTO of Ookla, believes that home Wi-fi routers overloaded by too much traffic could be the cause of slower internet speeds. Oookla only tracks the speed of an end user's connection so we aren't exactly sure if either the speed of the network or the router is the root of the problem.
In Europe, popular streaming services like Disney +, Youtube, Facebook, and Amazon are already taking the initiative by lowering the quality of their video streaming to lighten the load on bandwidth. According to Craig Labovitz, CTO of Deepfield, typically networks see traffic growth between 40 to 50 percent every 12 to 16 months.  Due to Coronavirus, broadband networks have seen this kind of growth happen in a much shorter time, even weeks. Labovitz, states, "There's enough capacity, but there won't be if we continue to see this kind of growth."
Fibernet can help you get faster internet speeds by signing up for UTOPIA internet service. UTOPIA consistently outperforms its competitors like Comcast and CenturyLink by bringing fiber directly to your home, providing you with the fastest connection available. One reason you should choose UTOPIA is that it raises the future value of your property Support local businesses by using UTOPIA. UTOPIA is now available in the following cities in Utah: Brigham City, Centerville, Layton, Lindon, Midvale, Morgan City, Murray, Orem, Payson, Perry, Tremonton, West Valley City, and Woodland Hills.