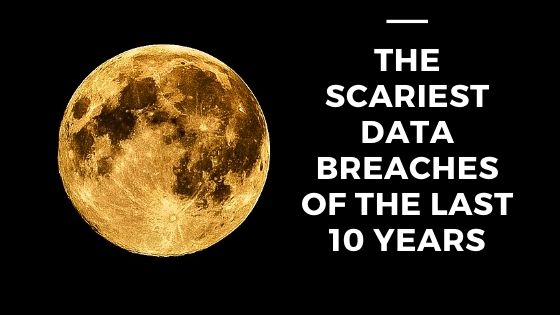 With Halloween around the corner and "rona" in the air you might be wondering how 2020 could get any scarier. Reviewing these data breaches of the last 10 years is sure to give you a fright.  They are arranged by year, starting with the most recent breaches. So secure your facemasks! And get ready for some scary hack jobs.  
Up until April 2019, 540 million Facebook users' data was up for grabs. Thankfully the insecure data was removed from unprotected cloud servers when it was discovered by Bloomberg.  The insecure data included account names, IDs and details about comments and reactions to posts.

First American left 885 million documents exposed on the web for years.  They were finally notified of the data exposure in May of 2019 and immediately took the records down. Social security numbers, tax documents and personal information was exposed in this breach.

In 2019, Dubsmash made a statement that almost 162 million users' account holder names, email addresses and hashed passwords were hacked. The data thieves posted the breached information on the dark web in February 2019.

Also in 2019, a hacker gained access to Zynga's, a popular mobile game producer, customer account log-in information. The hacker's not only gained access to log-in credentials but also usernames, email addresses, log-in IDs, some Facebook IDs, some phone numbers, and Zynga account IDs of about 218 million customers.  

In 2018, Under Armour had a data breach that affected 150 million users of the company's mobile app, MyFitnessPal. Hackers stole usernames, passwords, and associated email addresses.  After the hack, the company's stock plummeted.

 2018 was a busy year for hackers. Marketing and data aggregation firm Exactis, exposed 340 million records by building their database on an unsecure server.  Almost 2 terabytes worth of data was exposed including email addresses, home addresses, phone numbers, and other personal information.

Also in 2018, Marriott (Starwood) hotels was hacked and over 300 million people who stayed at the property had their names, addresses and contact information and passport numbers compromised. 

Last but certainly not least in 2018, Veeam, a data management firm, mishandled customer data. For 10 days "marketing databases [were] mistakenly left visible to unauthorized third parties".  About 445 million records were exposed in this breach.

In March of 2017 River City Media, an email marketing company leaked 1.4 billion records.  While configuring a back-up the company accidentally put their entire database online. 

In June of  2017, Deep Root Analytics, a conservative marketing firm, was hired by the Republican National Committee.  Unfortunately, Deep Roots did not keep voter information secure and voter information for 198 million Americans was publicly accessible.

In September of 2017, one of the largest data breaches in history hit Equifax.  Around 147 million consumers were affected (nearly 56% of Americans). Personal information such as names, social security numbers, birth dates, addresses, and numbers of some driver's licenses was hacked from Equifax.

In 2016, Yahoo had the largest data breach in history.  Yahoo was the victim of multiple attacks that ended up exposing the names, email addresses, telephone numbers, and dates of birth of over a billion people.

Additionally in 2016, a data breach compromised more than 412 million accounts from a network of mature-content sites. Some of the sites included AdultFriendFinder.com, Cams.com, iCams.com, Stripshow.com, and Penthouse.com.

In 2014, login credentials for 145 million users of eBay were stolen. Although the company wasn't sure how many people were affected in all, eBay still chose to warn 145 million of its users to change their login credentials.

In 2013, Target went through a data breach that exposed 40 million credit and debit card accounts. According to cybersecurity guru Brian Krebs, Target got hacked after a third-party heating and air conditioning contractor working for Target was compromised.

Also in 2013, Adobe had 152 million records stolen in a data breach. Adobe declared at first that 3 million accounts were affected and later updated that number to 38 million.  The final count came from a database dump with over 150 million breached records.
Don't let these data breaches just spook you. Take action to protect your data. Fibernet offers managed IT services that will help prevent these embarrassing data breaches. 
Check out our managed IT services today!